Sri Lanka
JSI began working in Sri Lanka in the late 1980s implementing the ENTERPRISE Project, which sought to improve and increase access to family planning services through nongovernmental, private-sector institutions. JSI went on to manage USAID's Opportunities for Micronutrient Interventions (OMNI) Project and the Reproductive Health Response in Crisis/Astarte program, a project aimed at improving health services to the refugees affected by Sri Lanka's long civil war. JSI has maintained its efforts in the country, implementing the USAID | DELIVER PROJECT to improve systems around prevention and response to avian influenza.
Highlights
PROJECT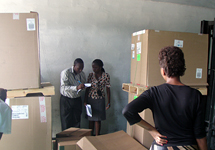 USAID | DELIVER PROJECT: Emerging Pandemic Threats

JSI managed a stockpile of outbreak response commodities, and provided procurement and distribution services to respond to outbreaks from avian flu to ebola worldwide and to pre-position supplies at regional and country levels for rapid deployment.