Introducing Child Health Registers to Collect Routine Child Health Data in Mozambique
Since 2010, the Ministry of Health (MOH) in Mozambique has been working to develop standardized registration books for all health facilities (HFs) to ensure the routine collection of key data on evidence-based reproductive, maternal, neonatal, and child health (RMNCH) interventions. The register rollout for all technical areas was intended to start in 2012 but both well (CCS) and sick child (CCD/Integrated Management of Childhood Illnesses) consultations were not prioritized. This resulted in an absence of data and indicators on child health (CH) in the country's health information system (HIS).

To address this critical lack of data on CH, the Child Health National Technical Working Group resumed updates to the CH registration books and routine indicators in 2016. This effort culminated in the piloting of the registration books in the first quarter of 2017.

MCSP provides technical support to the MOH, Provincial Health Directorates (DPS), Department of Women's Health, and HFs to improve the quality of services and routine data collected and entered into the HIS. MCSP, which has been providing comprehensive support for both CCS and CCD at the national level and subnational in Nampula and Sofala provinces, was asked to assist with piloting the new registration books.

Initially, a total of eight districts from four provinces were selected for the pilot. Sofala province was not included in this selection. Due to the long approval, reproduction, and distribution process of the registers prior to national scale-up, MCSP successfully negotiated the extension and expansion of the pilot to additional HFs in Nampula and two districts in Sofala, selected with the help of DPS.

After this selection process, formal trainings on the registers were organized. Upon completion of the trainings, providers returned to their respective HFs with copies of the register (reproduced by MCSP) and initiated implementation and monthly reporting. As of June 2017, a total of 27 HFs were implementing the new child health registers (14 HFs in Nampula and 13 HFs in Sofala).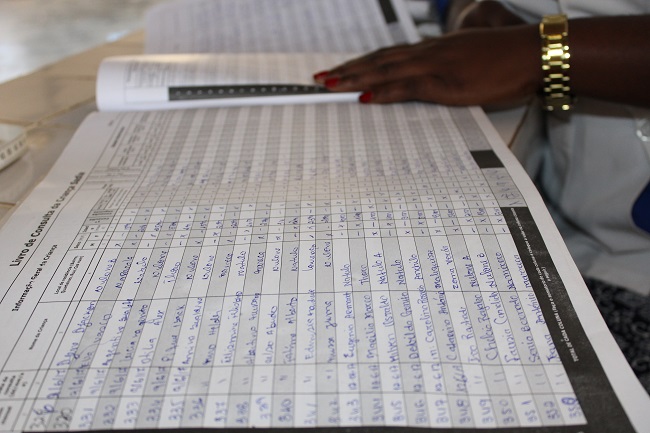 A nurse using the new well child consultation registration book. Photo credit: Fernando Fidélis /MCSP.

The books were successfully put into practice and HFs and districts reported that implementation of the new child health registers has improved the quality of record keeping and enabled routine monitoring and assessment of CCS and CCD consultations.

The registers ensure health care providers carry out holistic consultations and save medical information for the child's future visits. Prior to the implementation of the health registers, caregivers said that well child consultations often consisted of only weighing the child, rather than a comprehensive examination.

"With the new books the health care provider now asks many questions about the child's health while before only the reason for the consultation was looked at without looking at other important health issues" - Regina Inacio, Mother.

Despite its successes, the implementation of the new registration books has not been without its challenges. According to health care providers at the Chingussura HF in Sofala and Anchilo HF in Nampula, use of the new registration books initially added significant amounts of time to each consultation visit, which in turn led to longer wait times for children and their caregivers.

"The new books have been a great value because they brought a new dynamic in the care of the healthy child. At first it seemed very complicated and laborious and it took us a long time to see and register a child but over time we have improved and are getting faster in care" - Falucha Augusto, MCH Provider.

To address these challenges, HFs developed a system of task delegation among the staff in the facility. For example, preventive medicine technicians (usually focused on vaccination), nutrition technicians, and cleaning staff were assigned the responsibility to conduct growth monitoring of children (weight, height/length, MUAC, etc.) in the early hours of the day so that providers could focus on the specialized well child and sick child consultations.

JSI provides technical assistance to USAID's Bureau for Global Health's flagship Maternal and Child Survival Program (MCSP) in 19 countries and leads the program in Namibia, Nigeria, and Uganda. Find out more about JSI's work in Mozambique.


Related Project:
Maternal and Child Survival Program