Compliance assistance for Spanish-speaking auto body shop workers leads to better health and better business in Lawrence, Massachusetts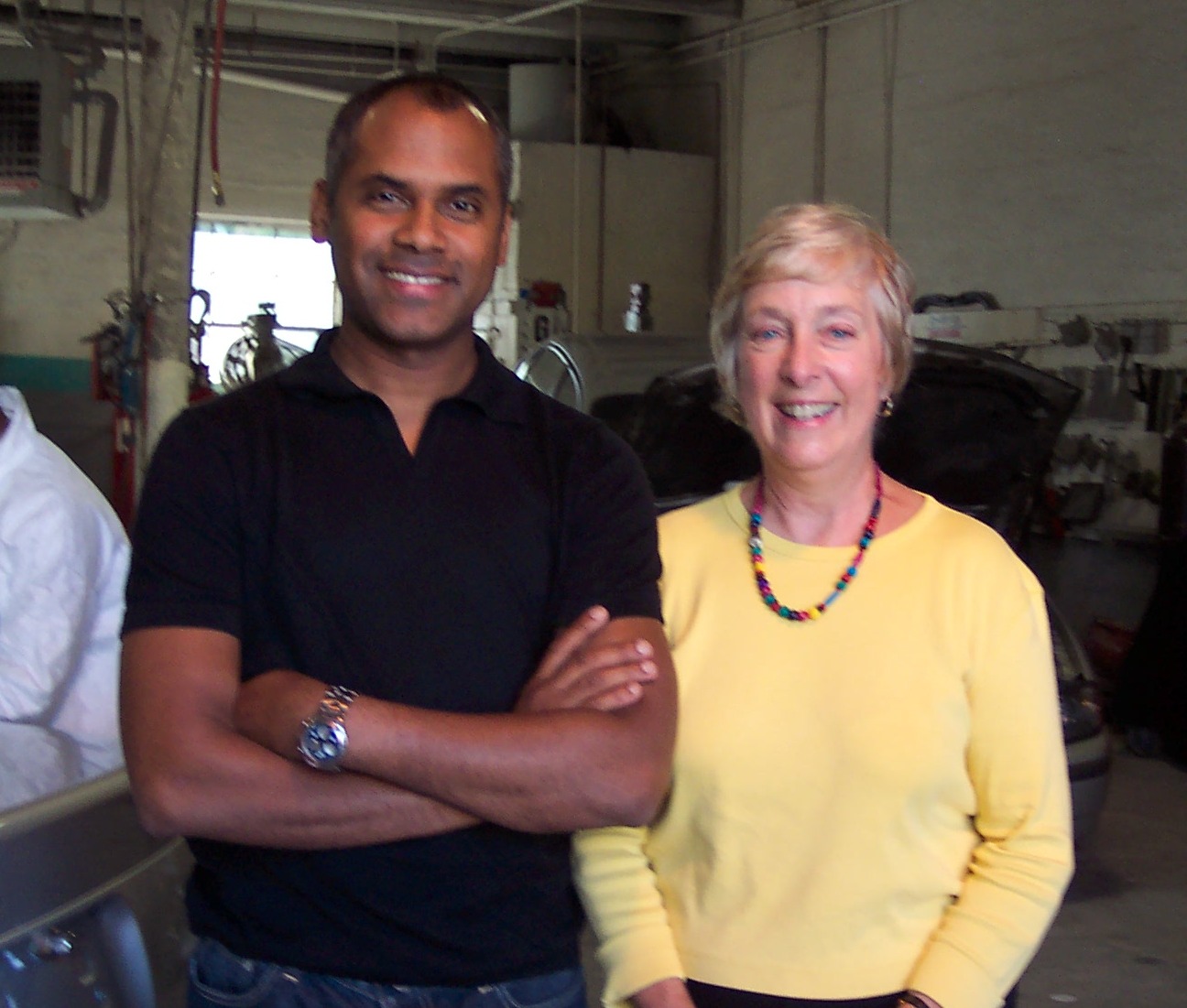 Project leader, Gretchen Latowsky, and team member, Persio Acevedo, at an auto-body paint shop in Lawrence, Massachusetts.

Lawrence, Massachusetts is located 25 miles north of Boston in the Merrimack River Valley. Founded in 1853, it is one of the first planned industrial cities in the United States and has a lengthy history of drawing immigrant populations to work in the region's leather and textile mills. As the mills have moved south or overseas, Lawrence has seen its economic base weaken and, with average annual incomes less than $13,000, is currently one of the 25-poorest cities in the US. Immigrants from the Domincan Republic and Puerto Rico make up more than 70% of Lawrence's 72,000 people.

Lawrence is considered an environmental justice community because it suffers disproportionately from toxic releases from incinerators, manufacturing facilities, and waste sites. As a result, Lawrence endures one of the highest asthma rates in Massachusetts.

Emissions from the high concentration of auto-body paint shops in the city contribute to the asthma epidemic. There are 45 shops in Lawrence—that's eight per square mile. The shops are Latino-owned, and, before JSI's intervention, the vast majority did not operate in compliance with local, state, or federal environmental regulations. Further contributing to asthma disparities is the fact many of these shops are located in residential neighborhoods, and vent stacks from the shops emit fumes and exhaust at the window-level of neighboring apartments.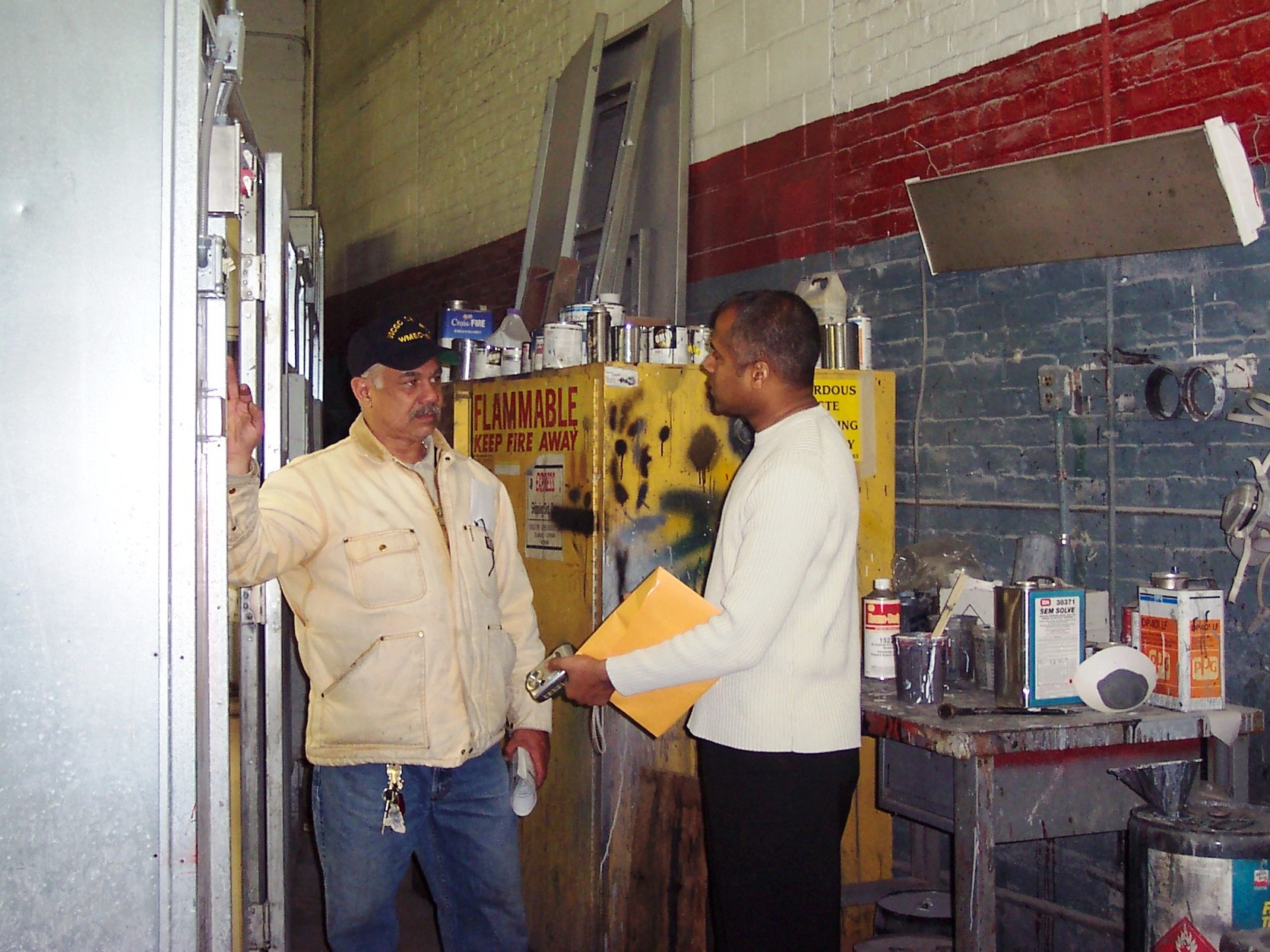 A Compliance project staff member speaks with a shop-owner

To address these issues, JSI engaged community members in a collaborative project, Compliance Assistance for Spanish-Speaking Auto-Body Shop Workers, to improve environmental health and air quality for the residents of Lawrence. Engaging community members was an important way to overcome significant language and cultural barriers and institute sustainable changes in the way shop owners run their businesses.

As project leader Gretchen Latowsky explains, "We realized that developing effective interventions programs is dependent on understanding the community and engaging them in a mutual learning process that takes into consideration the social, political, and cultural context in which they operate."

To that end, the project hired bilingual Latino residents to act as educators in the shops. Through the new line of communication, the project team has been able to learn how owners are running their shops, the economic issues they face, challenges posed to them by language and illiteracy issues, and unfair treatment from government agencies, such as long delays in obtaining permits, and misunderstanding the expectations of city agencies.


Before and After JSI's Compliance Project in Lawrence

| | | |
| --- | --- | --- |
| Requirement | Before | After |
| Registered with the MA Division of Standards | 24 | 38 |
| Registered with MA DEP as a VSQG | 2 | 19 |
| Acetylene Storage, Cutting, Welding Permit | 5 | 26 |
| Flammable Liquid Storage Permit | 5 | 26 |
| Regulation Hazardous Waste Storage Area | 16 | 30 |
| Drums Properly Labeled | 7 | 21 |
| Employ A Licensed Hazardous Waste Hauler | 13 | 20 |
| Approved Flammable Material Storage Cabinet | 18 | 28 |
| 20 BC Rated Fire Extinguishers | 20 | 29 |
| Lighted Exit Signs | 5 | 27 |
| Emergency Lighting | 1 | 16 |
| Regulation Spray Booth | 16 | 19 |
| Operable Regulation Ventilation System | 11 | 23 |
| Use of HVLP Spray Guns | 19 | 29 |
The team decided that improving communication between Latino shop owners and city agencies—namely the Inspectional Services and Fire Department—was integral in creating a supportive, mutually accountable relationship that would ensure lasting change. As the program unfolded, staff facilitated conversations between individuals and groups, including regularly scheduled meetings with the newly-formed Lawrence Auto Body Shop Association and city agencies. The open dialog led all parties—including the project team—to strategize, negotiate, and compromise together in order to reach the common goal.

The team was able to prove to shop owners that meeting compliance regulations would not only improve the health of employees and neighbors, but improve shops' bottom line. Shop owners learned that running a clean and compliant shop using best management practices would lead to higher incomes and that switching to improved spray gun and spray booth technology would limit exposure to harmful emissions and increase efficiency.

"One of the keys to our success," says Gretchen, " was that everyone in the collaboration was united in establishing the dual goal of reducing air toxics while preserving—and improving-- the economic viability of the shops."

Part of the success of the project can also be attributed to the creation of partnerships both within the business community and between shop owners and city agencies. For example, Spanish-speaking city employees volunteered to hold a session to help shop owners fill out permit applications; auto-body shop suppliers sent Spanish-speaking representatives to demonstrate how to use protective equipment; and owners of compliant shops volunteered to answer the questions of non-compliant shop owners. The program also engaged Latino inspectors from the community to explain the city's expectations and communicate to shop owners the measures needed to be compliant.

The program worked with city agencies, as well, to develop a coordinated strategy to continue to bring shops into compliance through culturally and linguistically appropriate educational programs, by utilizing existing ordinances to levy fines for non-compliance, and by developing incentives such as a certificate from the mayor proclaiming a shop to be fully compliant. This effort has brought both efficiencies and pride to the compliance work.

Through the effective leadership of the project team, many of the non-compliant shops have become compliant, and many more have made significant steps toward reaching compliance. The Compliance Assistance for Spanish-Speaking Auto-Body Shop Workers project has not only established practices that will improve health outcomes, but has served the community by integrating immigrant workers into the mainstream of American business.