Fostering leadership to improve health in a rural Madagascar community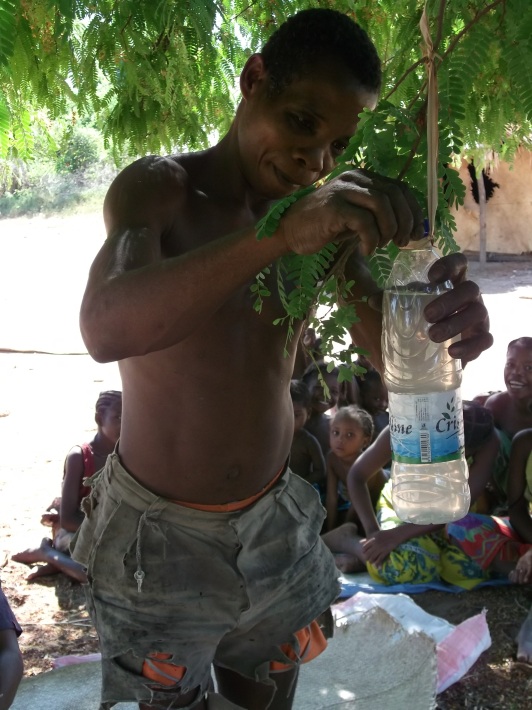 "Quartier Mobile", a village farmer learning tippy-tap technique.

"Who wants to build a latrine?" Isofolo is a regional community-led total sanitation (CLTS) consultant supported by MAHEFA, a USAID-funded, community-based integrated health program implemented by JSI in Madagascar. Isofolo works to help support community-led initiatives which can dramatically impact health outcomes in rural areas of Madagascar.

In the course of his work, Isofolo encounters various community responses, ranging from enthusiasm to apathy. But this time, in Antsingilo, a rural community in the district of Mahabo, Isofolo encounters hostility. Isofolo begins his work by discussing proper hand washing techniques, demonstrating how to use the "tippy tap" (pictured left) provided by MAHEFA. He then works with the community to help them understand the connection between open defecation and diseases and details the benefits of pit latrines.

Isofolo is challenged when a village elder explains that latrines are taboo for his tribe because according to the tribe's beliefs, mixing feces in one place has been unacceptable for ages. Isofolo listens to the elder's point, remembering that change ultimately originates within the community. Isofolo knows that forcing a rural community to build and use a pit latrine will not bring about sustainable improvements in health. Knowledge of the causes of diarrheal diseases should provide enough motivation.

"Isofolo's approach encourages a natural agent of change in the village to emerge, a motivated individual known as a "Quartier Mobile". Despite the community elder's refusal of latrines, a leader in the community stands up to accept construction on his land. He shows the MAHEFA health team the place for his family's latrine, fetches his shovel, and starts digging. In a chain reaction, 3 of the other 13 households in the community begin construction of latrines before the end of the day.



Despite the verbal disagreement, peace prevails in Antsingilo. No disastrous consequences accompany breaking ground and the accompanying taboo. Monitoring and encouragement from Isofolo and other MAHEFA team members will follow in the coming months to support continuation of the community-led initiative. Motivations vary, but the passion of the natural leader, "Quartier Mobile" demonstrates that education can stimulate a community previously opposed to pit latrines. Isofolo's respectful execution of MAHEFA's community health approach demonstrates that healthy debates can unearth precious leaders of development.





Related Project:
Madagascar Community-Based Integrated Health Program (CBIHP -also called MAHEFA) (2011-2016)