Spreading HIV/AIDS knowledge through Zambian pop stars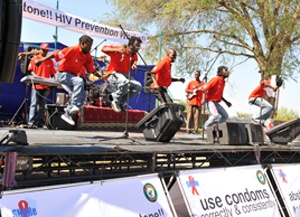 SHARe-trained popular Zambian musicians promote appropriate HIV & AIDS messages at a social mobilization event in Livingstone.

"I went for counseling and testing, and now I know," remarks Justin Mulenga, also known as Mozegator, one of Zambia's top musicians, with a huge grin. "I know my HIV status—how cool is that?" he adds, with his trademark youthful enthusiasm.

When Mozegator sings, he touches Zambia's soul. Zambia rocks with him and listens to him. He addresses his messages in song to youth with his catch phrase, "are you with me boys and girls?", but everyone—from grandmothers to toddlers—rocks when Mozegator sings.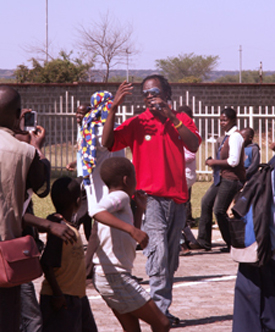 Zambian singer Mozegator reaches youth in Livingstone with HIV & AIDS messages he learned from SHARe.

However, less than two years ago, Mozegator was just another famous Zambian singer. "I sang my heart out about everything under the sun, except the biggest problem facing Zambia today: HIV," he says. That changed in May 2008, when the SHARe project reached out to Mozegator and convinced the 32-year-old musician to take part in the project's HIV & AIDS ambassadorship and leadership training program.

The goal of SHARe's innovative training program was to build a core of popular young Zambians, like Mozegator, to be HIV & AIDS ambassadors to their peers. The program trained these influential young people to deliver important public health messages about HIV & AIDS to Zambia's youth. The program trained more than 100 young ambassadors, from singers to beauty pageant contestants. The training for these young role models included workshops on basic HIV & AIDS information, and skills building to strengthen their ability to communicate effectively and influence the behaviors and perceptions of their audiences, particularly the youth. Toward the end of the training, the musicians composed a pop song containing HIV & AIDS messages which was produced for national broadcasting.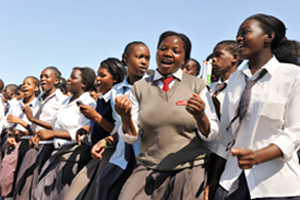 School girls dance to the music of popular Zambian musicians at a SHARe-supported tourism HIV & AIDS awareness event.

Mozegator says he is a changed man since his training as an HIV & AIDS ambassador. "All my music and shows now have HIV & AIDS messages. I sing about the importance of counseling and testing, the need to fight stigma, and I encourage young people to get involved in the fight against HIV," he says.

At a recent concert, Mozegator shouted to the eager, boisterous crowd, "I know my HIV status—you should know your HIV status too! Are you with me boys-girls?" "Yes-yes!" came the deafening response from his adoring fans. "My fans have thanked me for the HIV & AIDS messages in my music," says Mozegator. "I am blessed and honored—blessed by my music and honored to contribute to the HIV & AIDS fight in Zambia, thanks to SHARe."

Since his training, Mozegator has performed to more than 100,000 people at major national events including commercial shows, trade fairs, and counseling and testing days. Armed with knowledge about preventing the spread of HIV & AIDS, he can now reach thousands more people with accurate and helpful information about the disease. Mozegator has also used what he learned in the training to affect the people in his own life. "I talked to my wife and my band members about counseling and testing and we all got tested—now we know," he says. "Today I am an effective HIV & AIDS change agent."


Related Project:
Zambia SHARe II: Support to the HIV/AIDS Response in Zambia (2010-2015)