Good information for good health in Uganda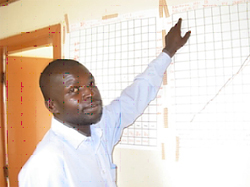 NUMAT-trained record assistant, David Ogwang, shows evidence of data utilization at a northern Uganda health center.

Collecting, processing, analyzing, and using accurate data at health facilities is critical for providing quality care. However, health workers in many facilities in northern Uganda lack skills in how to manage and use data, which compromises the ability of districts to make well-informed decisions that improve public health.

To meet this challenge, the USAID-supported Northern Uganda Malaria, AIDS, and TB program (NUMAT) strengthens the ability of districts to generate and use strategic information by training local people and record clerks in health management information systems (HMIS) and providing technical and logistical support for data management.

To follow up after a recent training, NUMAT visited a health center located in a busy fishing community in northern Uganda. There they met David Ogwang, a records assistant at the center. David was one of 17 participants in a three-day, NUMAT-supported training that focused on building data management skills and teaching the fundamentals of HMIS.

The fishing community is recognized as a "most-at-risk" population, meaning its prevalence of HIV and AIDS (8.2%) is higher than the national average. The health center provides out-patient and antiretroviral therapy (ART) services to the majority of community residents. Upkeep and tracking of proper medical records is an important part of ensuring consistent, quality care.

"Although I had been working as a records assistant for the past six months, I had never received any training on HMIS prior to the [NUMAT] training," David said. "As a result, I made many mistakes because I did not understand how to fill out the HMIS forms. I found them too complicated and the instructions were not clear. I also found it difficult to collect the data required for the forms and lacked the technical expertise to properly analyze and use the data.

"However, since the training," David continued, "I have been able to contribute significantly to the HMIS reporting at my health unit. I now have a better understanding of the forms and am able to summarize the HMIS forms correctly from the registers.

"My data analysis is now accurate which has contributed enormously to informed decisionmaking and planning of resources within the health unit. For example, recently, NUMAT started providing ARV drugs to the health unit where I work. With the increase in services, I have been able to track the use and need of this critical medicine and that will help to inform future health delivery strategies. This kind of Information will be the basis for advocating for increased funding should gaps arise. I also look forward to a computerized version of the HMIS."


Related Project:
Uganda NUMAT (Northern Uganda Malaria AIDS & Tuberculosis) Program (2006-2012)