Improving the skills of peer educators for greater impact by promoting HIV awareness in Rwanda
Promoting HIV awareness and behavior change is a difficult task. But reaching people with disabilities with these messages is even harder. This population is often excluded from mainstream society and many people believe that they have no need for HIV education and services.

Consolatrice Niyibizi is a blind peer education trainer with the Rwanda Union for the Blind (RUB). She knows firsthand how dangerous this way of thinking is because people with disabilities are often at greater risk for contracting HIV.

"Many people with disabilities rely on family or caregivers to help them with everyday tasks and are very dependent," she says.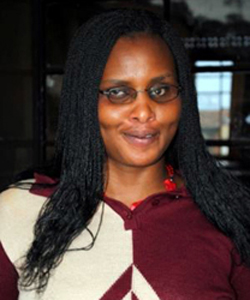 "We target people who are blind because we know they have been left behind in HIV messaging" -Consolatrice Niyibizi, peer education trainer, Rwanda Union for the Blind (RUB)




Sadly, there are many cases of abuse from caregivers, putting people with disabilities at increased risk for HIV infection from sexual assaults and certain cleansing rituals. In addition, tremendous stigma surrounds sexuality for people with disabilities—they are often perceived as not sexually active. Whether through abuse or their own consensual relationships, people with disabilities are at risk for HIV infection, and thus in need of prevention information.

Since 1982, Handicap International (HI) has promoted the rights of people with disabilities, and has had an office in Rwanda since 1994. In 2008, HI Rwanda received a PEPFAR New Partners Initiative (NPI) grant from the U.S. Department of Health and Human Services (HHS) to target HIV prevention messages and services to people with disabilities. In conjunction with this grant, HI Rwanda also received technical assistance to strengthen its management and programmatic systems for working with a network of sub-partners representing specific forms of disabilities in Rwanda. This support is provided by the Technical Assistance to the New Partners Initiative (TA-NPI), led by John Snow, Inc. (JSI) with support from Initiatives Inc.

To target people with disabilities such as blindness with HIV messages and services, TA-NPI worked with HI's staff to establish measures of program quality and means to monitor them. "The training included national standards for trainers and peer educators," says Gallican Mugabonake, HI Rwanda HIV/AIDS Project Coordinator, "which we have now integrated into all disability trainings."

As a partner of HI Rwanda, RUB previously received support for gender mainstreaming and HIV awareness. However, it wasn't until TA-NPI's support through the NPI grant that RUB trainers like Consolatrice were given specialized training in supportive supervision for HIV services.

"I was taught to train other persons with visual impairment," she says, "and have now trained peer education trainers from eight districts on issues around HIV and disability."

This specialized training reviewed national behavior change communication guidelines and message development for the blind, and the information, education, and communication materials that are available. "I now better understand the factors that influence people with disabilities becoming infected with HIV," says Consolatrice.

While the additional training Consolatrice received reinforced her basic knowledge of HIV, most importantly, it focused on reaching the blind with appropriate HIV messages and tools. "Something that helps me train others is the Braille training manual I received. This helps me conduct the peer educator trainings and is unique," she says.

In addition, TA-NPI worked with HI Rwanda and RUB trainers to develop networks to help visually impaired people access much-needed HIV information and services. TA-NPI's assistance with building these networks, coupled with training support for HIV peer educators, has helped to bring appropriate and accessible HIV information and services to visually impaired Rwandans.

"The fact that our blind community now has access to HIV information, and counseling and testing, can lead to a new vision for the future," says Consolatrice. "They know they have access to these services and can now plan their future accordingly." Furthermore, blind people seeking HIV information feel they now have a trusted and respectful source. "They listen to the peer educators and open their hearts to them because they experience the same problem—blindness."


Related Project:
Technical Assistance to the New Partners Initiative (TA-NPI) (2008-2013)