Taking the temperature of an anti-malaria campaign in Liberia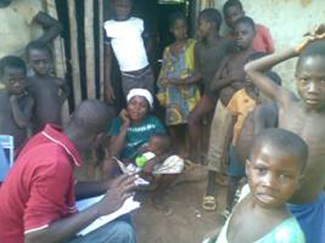 Interviewing woman in remote village of Nimba County, Oct 2010, to find out what she has heard about malaria.

Touch 100 children under five years old in Liberia; 40 will be sick with malaria and one will die. Malaria affects more lives in Liberia than AIDS. JSI's Rebuilding Basic Health Services project (RBHS) is supporting Liberia's Ministry of Health and Social Welfare in its efforts to not only develop a comprehensive system of high-quality health services, but also to mobilize communities, including urging them to lead the fight against malaria.

In collaboration with Liberia's National Malaria Control Program, RBHS launched its first behavior change communication campaign in November 2009: "Take Cover" encourages people to sleep under insecticide-treated mosquito nets "everywhere, every night." The campaign uses a variety of media to get across its message: thousands of radio messages broadcast and posters distributed, hundreds of community volunteers engaged, as well as bulk SMS texting, brochures, and stickers. An especially important part has been including traditional leaders: first creating enthusiasm among the country's most senior paramount chiefs, then holding county-wide advocacy meetings for local chiefs and encouraging them to carry the Take Cover message back to their communities.

To ensure the campaign's effectiveness, RBHS needed to quantify how many people were being reached by the message, and through which media. To answer those questions, four innovative, quarterly "dipstick" surveys — like a quick check of the level of engine oil — were conducted, surveying mothers of children under five in randomly selected households among the population served by RBHS (about 770,000 people). The dipstick survey uses multi-media questionnaires, including campaign posters and radio jingles.

Employing interviewers wielding cell phones for data collection, these inexpensive surveys each took less than one week, despite being spread across the country. Quick turnaround was key; in most cases, data analysis was completed and the report finalized within a month.

The results helped RBHS tailor its campaign, discovering, for instance, where people are not hearing any radio messages, documenting the absence of posters in many facilities, and showing thatthe text messaging is unlikely to be successful. By using timely data to shift gears, the campaign succeeded in reaching 91% of the target population, and has produced statistically significant and operationally important increases in a number of key indicators, including how many people have heard the sleep-under-a-net message (up from 53% in January-April 2010 of those who reported hearing some malaria message to 71% in July-October 2010).

The dipstick surveys have also provided evidence that mothers who have been exposed to the Take Cover message and their children are more likely to sleep under a net than those who have not.

RBHS is a five-year program to support Liberia's goal, outlined in its National Health Policy and Plan, of increasing access to basic health services and strengthening the decentralized management of the health system.

Although Liberia's long civil war left its health care service delivery system fragmented, severely damaged, and heavily dependent on international donors and NGOs, in only a few short years, Liberia has taken bold steps to transition from an emergency relief model of health service delivery to a functioning, decentralized health system. While there is still a long way to go, Liberia's 15 counties have begun operational management of health services with direction and support from the central Ministry of Health and Social Welfare (MOHSW). The cornerstone of this decentralized primary care approach is the basic package of health services. RBHS will collaborate entirely with the efforts of the MOHSW to support service delivery outcomes with a focus on the following elements: family planning, reproductive health, and gender based violence; maternal, neonatal, and child health; malaria; HIV prevention; and water and sanitation.


Related Project:
Liberia Rebuilding Basic Health Services (RBHS) (2008-2015)