Strengthening learning through vitamin A supplementation in South Sudan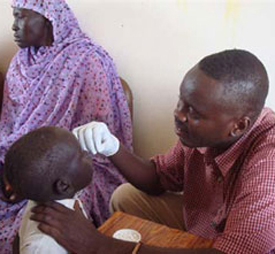 Dr. Elrasheed Abdalla, HEAR Sudan Project senior health advisor, gives a child a vitamin A supplement.

Abuk stepped up to the desk, unsure of what was going to happen next. "Don't worry, it doesn't taste bad. Just open your mouth and stick out your tongue," said senior health advisor, Dr. Elrasheed Abdalla. The little girl did as she was instructed as Dr. Abdalla squeezed a droplet of vitamin A —a life-saving nutritional supplement— on her tongue.

Southern Sudan, one of the poorest regions in Africa, has more than 4 million internally displaced persons and refugees due to the civil war. The health care system has been devastated, resulting in some of the worst health statistics in the world. Extremely poor nutrition exacerbates diseases including malaria, diarrhea, and respiratory infections, and results in very high child mortality. Lack of vitamin A in children causes visual impairment and blindness, and significantly increases the risk of illness and death from common childhood infections. In Southern Sudan, vitamin A deficiency affects one out of seven children.

After nearly 20 years of civil war, the political climate in Sudan is changing. Along with emergency relief programs, more sustainable long-term development projects focusing on training and capacity building are reaching the people. More than 1,550 school children living in the town of Abyei, in the Southern Kordofan state of Sudan, have recently received vitamin A supplementation through the USAID-funded Health, Education and Reconciliation (HEAR) Sudan Project. HEAR is a three-year initiative implemented by JSI Research & Training Institute, Inc. to help strengthen teacher training and health education in primary schools in the transitional areas of Sudan.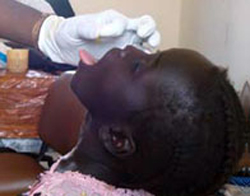 A child receives vitamin A supplementation from a HEAR staff member




Vitamin A supplements were distributed to students by HEAR staff in eight schools in the Abyei area throughout September and October 2007. Prior to dissemination days, community members were told about the HEAR Project's upcoming vitamin A activities, and were asked to bring children to schools for supplementation. HEAR Project staff also disseminated health information to students, teachers, and parents. This information focused on what vitamin A is and the foods that contain it, its importance in the body, and how to protect children and mothers from vitamin A deficiency.

All students, as well as out-of-school children between the ages of five and 15 years received vitamin A supplementation. "That was easy," says Abuk with a giggle after receiving her vitamin A, a smile lighting up her face. "Don't worry, it is ok," she says to the girl behind her.

HEAR Project staff asked mothers present during the vitamin A activities if they would be willing to discuss the knowledge they had gained at the session with their neighbors, and many mothers said they would be happy to do so. In fact, some mothers were so enthusiastic that after their children received vitamin A, they went home and returned to the school with more children and even neighbors.\

In addition to vitamin A distribution, the HEAR Project focuses on improving teachers' skills as well as increasing teachers' basic knowledge about health topics including malaria prevention, sanitation and hygiene, and nutrition. Deworming activities, insecticide treated bed net distribution, and training of community health workers are also components of the HEAR Project.

Due to strong partnerships forged between JSI/HEAR Project staff and UN agencies, the World Health Organization (WHO) has donated all doses of vitamin A to date, and JSI hopes to receive additional donations for schools in the other project areas of Kauda and Kurmuk.








Related Project:
Sudan HEAR Project (2006-2010)