Health extension workers - ready to train in Ethiopia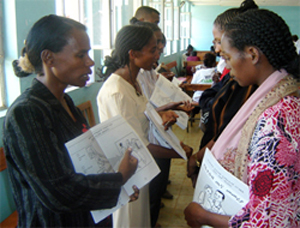 Elfinesh Duko explains the contents of the family
health card to new volunteer community health
workers.

"I work in a large kebele (neiborhood) with more than 170 households. If it were not for the community volunteers, I would not be able to reach all the houses," says Elfinesh Duko, a health extension worker (HEW) assigned to the Sore Homba Health Post in Ethiopia's Southern Nations, Nationalities, and Peoples' region.

Elfinesh coordinates the activities of community health and nutrition promoters, who communicate health and nutrition messages in the kebele as part of the Health Extension Program (HEP), the Federal Ministry of Health's flagship approach to delivering primary health care at the community level. In this program, two female health extension workers are assigned to a health post in each ward and conduct outreach activities with 500-1000 households.

The Ethiopia Essential Services for Health (ESHE) Project is a five-year USAID initiative to improve family health, decrease child mortality, and strengthen the health care system. Implemented by JSI, ESHE program supports the Ministry's HEP by teaching health extension workers about principles of volunteerism and by giving them communication skills. ESHE staff train women, like Elfinesh, in leading community orientations, facilitating trainings for volunteers, and conducting behavior-change efforts with the family health card (FHC), a simple tool used to communicate important family health information and child immunization schedules to households.

"I have the confidence to train community volunteers after attending the three-day health extension worker orientation. I understand the basic health themes that need to be relayed to the community. My communication and negotiation skills have also improved with this training," Elfinesh says.

After her orientation with ESHE staff, Elfinesh was prepared to teach local volunteer community health workers (VCHW), who will help her deliver health messages throughout the community. To identify these VCHW, Elfinesh and other HEWs hold community orientation meetings and select, teach, and mentor volunteers to serve as health promoters and role models. With the addition of the VCHWs, who each visit 50 households, the scope of the HEW's health promotion and organizational work increases greatly. The partnership between the HEWs and the VCHWs has brought about noticeable changes in community engagement.

As part of ESHE's program, HEWs provide ongoing support to the volunteers by holding monthly experience-sharing meetings, during which volunteers have an opportunity to discuss their activities, learn from one another, and, as a group, identify common problems and possible solutions. To date, HEWs have trained more than 26,000 volunteers in their communities.

Elfinesh has been particularly impressed with her community visits, which are required of the HEWs as part of the training. "There isn't one household where basic health messages have not been shared, and each household visited had a family health card. The community health workers have paved the way for us. They have simplified my life greatly. For my own sake, I will gladly train community volunteers."

Related Project:
Ethiopia Essential Services for Health (ESHE) Project (2005-2008)