Rebuilding a sufficient team of health workers in Uganda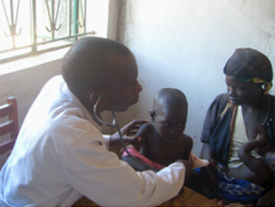 Alex Bakenga, Gulu University Medical Student, on duty at a rural health center during his internship.

Northern Uganda needs more health workers. Conflict, poor living conditions, high levels of HIV and AIDS, and weak infrastructure contribute to a very high levels of population migration, as skilled workers seek better opportunities in other areas of Uganda.

This human resources crisis is made worse by low workforce productivity, a shortage of skilled health workers, a skill mix imbalance, inadequate coverage, and challenging work environments; all byproducts of the protracted war in northern Uganda. Unfortunately, the health worker shortage disproportionately impacts vulnerable groups such as women, children, and the rural poor.

The USAID-supported Northern Uganda Malaria HIV/AIDS and TB program (NUMAT) is helping to alleviate staff shortages by building strategic internships for undergraduate university students. Students are paired with health training institutions and district local governments that work on increasing access to quality health services. Additionally, medical students from Makerere University and Gulu School of Medicine are placed in remote health centers. One such student, Alex Bakenga, talks about his experience.

"As a fourth year medical student at Gulu University, I worked at a NUMAT-supported health center during my internship. The internship provided me with the opportunity to practice much of my undergraduate training. I was engaged in clerking patients in the clinics and laboratories, conducting community outreach, supporting the health management information system, and carrying out HIV prevention activities. Through this experience I was able to develop my medical skills and gain practical skills to supplement and reflect on the information I learned in the classroom.

"I was also able to reach out to vulnerable people, including HIV-positive infants. I examined quite a number of infants for opportunistic infections and monitored their adherence levels to anti retroviral (ARV) drugs. Fortunately, the majority are quite healthy partly due to NUMAT's efforts to ensure that ARV medicines are always in stock.

"Working with vulnerable HIV positive infants has been quite a life changing experience and a turning point in my life."


Related Project:
Uganda NUMAT (Northern Uganda Malaria AIDS & Tuberculosis) Program (2006-2012)