Mobilizing communities to use services through art in IDP camps in Uganda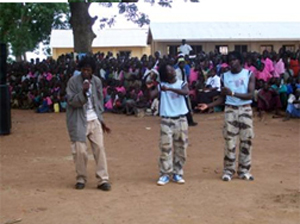 Musicians perform for people in IDP camps

Music, dance, and drama are powerful tools for community mobilization. When used as a method of promoting important health issues, they can dramatically change the lives of people living in resource-poor settings.

The twenty-year conflict in Uganda has forced more than 1.5 million citizens to flee their homes and seek refuge in internally displaced person's (IDP) camps throughout the country. Educating these people about preventing widespread diseases has been a major challenge. Poor conditions, lack of a stable infrastructure, and the inaccessibility of services contribute to an overall lack of knowledge about preventable diseases and access to basic health care.

The need for HIV and AIDS services led the CARAVAAN initiative (Cultivating Art and Realizing Alternative Ventures for Aid to the African Nation) to host an entertaining educational event to mobilize health providers and IDP communities.

Over the course of six days in 2006, health-related music, dance, and drama performances took place in six IDP camps throughout northern Uganda, while HIV counseling and testing, child health exams, and basic health information were given. This event used entertainment as a stimulant to attract people to a specific health center for treatment and testing.

The JSI-led Uganda Program for Human and Holistic Development (UPHOLD) collaborated with CARAVAAN and other partners to implement these events. Funded by the U.S. Agency for International Development (USAID), UPHOLD was committed to empowering communities and institutions to improve the quality and use of services in education, health and HIV and AIDS throughout Uganda.

These special events were a huge success, and demonstrated how the combination of education and art is a critical resource in the delivery of health services. As a show of gratitude, many of the people in the camps donated blood to the Uganda Blood Bank.


Related Project:
Uganda Program for Human and Holistic Development (UPHOLD) (2002-2008)