Solving storage challenges in the Amhara region, Ethiopia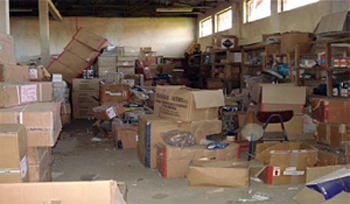 Poor warehouse conditions before JSI's efforts.

Located 320 miles northwest of the Ethiopian capital of Addis Ababa is the town of Woldiya in the North Wollo zone. Woldiya's health facilities receive commodities from five different zonal warehouses. Two of these store drugs and related health commodities such as syringes, two others store medical equipment and supplies, while the last one is a cold chain warehouse that stores various drugs.

Residents of Woldiya rely on these facilities for medical supplies, but until recently, the storage conditions at these warehouses were terrible. The stockrooms were littered with debris, and the health commodities were haphazardly scattered about. These conditions made tracking and moving health commodities very difficult, which resulted in damaged and expired products. Products that expired in 2003 were mixed in with usable commodities. Serious electrical power problems in the cold storage warehouse damaged valuable equipment, and water drainage was inadequate. In addition, the warehouse workers had never been trained in proper warehouse management, and struggled to manage storage and inventory.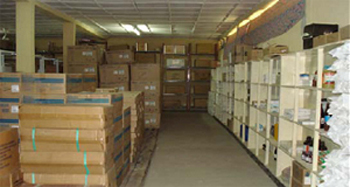 The Woldiya stockroom now has good storage conditions for its health commodities.

To improve conditions, the zonal health bureau asked JSI for help. Implemented by JSI, the USAID | DELIVER PROJECT, funded by the United States Agency for International Development (USAID), spent 15 days identifying and removing damaged and expired products, including three days of disposing waste commodities. Once that was done, it was clear that ample storage was available. Aisles and spaces between stacks and walls were freed from clutter. In all, workers disposed of 116 types of expired and damaged health commodities.

Reorganized stock ensures the quick identification of products, which laid a solid base for improved logistics data collection. Prior logistics information at the zonal warehouses was of little use in the decisionmaking process for restocking health supplies.

To help the zonal health bureau maintain the new system, the USAID | DELIVER PROJECT provided equipment needed for good warehouse storage practices—wooden pallets to ensure health commodities remain off of the ground, aluminum ladders, manual trolleys, and ventilators to keep the drugs from becoming damaged by heat and moisture. A new power line was installed in the cold storage warehouse, including back-up devices, to protect the ventilators from breaking down, and damaging drugs that need to be kept refrigerated. The USAID | DELIVER PROJECT also enhanced the water drainage system when areas outside the warehouse were cleaned.

With the help of the USAID | DELIVER PROJECT, health facilities in Woldiya zonal warehouses have added storage space, solved critical electrical and moisture problems, and supported solid inventory management practices. Costing no more than $2,000, these high-impact improvements have helped to ensure that all people in Woldiya can obtain and use health products that are in good condition.