Volunteer teachers promote healthy lifestyles for students in Georgia
For four teachers at Public School 17 in Kutaisi, Georgia, teaching high school students was more than a job. It was a commitment to helping their young students navigate the path to adulthood in as safe and healthy a way as possible. Every day for three hours, Nato Kuprava, Irina Burjaliani, Tea Kutateladze and Eka Murusidze stayed after school on a volunteer basis to teach their students about reproductive health, sexually transmitted diseases, drug and alcohol abuse, and other social issues such as early marriage.

Prior to this after school program, which was called Healthy Lifestyles, teenagers at Public School 17 had little to no access to accurate reproductive health and substance abuse information. Drug use, early marriage, and involvement with petty crime were common problems among Georgian youth, who often felt their opportunities in life were limited.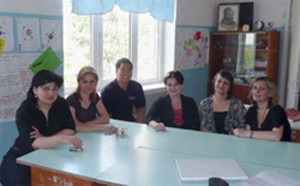 Public School 17 teachers pose with Healthy Lifestyles project staff. (L-R: Nana Koirtia of Save the Children, Tea Kutateladze, Richard Wang of JSI Research & Training Institute, Inc., Eka Muruzeba, Nato Gorubdze, and Irina Bagriliani.




Healthy Lifestyles was a component of the Healthy Women in Georgia program which was implemented by JSI Research & Training Institute, Inc., and Save the Children and supported by USAID, and aimed to educate students about protecting themselves against the dangers of substance abuse and unprotected sex. The program also empowered students to make informed and healthy choices affecting their lives. More than 100 secondary schools in Georgia actively participated in the program.

To become certified Healthy Lifestyles instructors, public school teachers participated in a four-day training where they learned how to discuss sensitive health and social issues with youth, as well as how to manage the program and communicate it to parents and students. The trainings were led by local physicians trained from a curriculum created specifically for Georgia by international public health consultants.

The teacher training and Healthy Lifestyles curriculum was certified by the Ministry of Education and Science of Georgia, as well as by Ministry of Labor, Health and Social Affairs of Georgia as a complementary reproductive health module. Thanks to the focus on domestic training, and with full backing from the respective ministries, the Healthy Lifestyles program ensured Georgian youth continued access to accurate healthy lifestyle information.

A tenth grade boy attended a session on quitting smoking led by Irina Burjaliani. The teenager could not quit smoking on his own and wanted help. After numerous counseling sessions from Irina, the boy put away cigarettes for good. As an added benefit, he went on to become certified as a Peer Leader and counseled other students on positive lifestyle choices. Nato, Tea, Irina and Eka motivated an impressive 80% of Public School 17's 450 students to take part in the Healthy Lifestyles program. Twenty students chose to complete a two-day training to become certified peer leaders, making them an additional source of accurate information for their classmates.


Related Project:
Healthy Women in Georgia (2012)