A new breed of community organizer improves health in Djibouti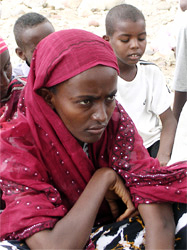 Saida listens as people in the community
talk about their health issues

"Sometimes I walk a long way to visit with women in their camps, but they don't always want to listen and sometimes they don't have time to talk. But I keep going—now we know things we didn't know before and we can be healthier," says Saida, a community organizer in rural Djibouti.

Selected by her community to help prevent common illnesses and increase the use of health services, Saida works with a community of several hundred people, including several scattered encampments of traditionally nomadic families. For the first time, community mobilization is taking place in rural districts of Djibouti, as a result of the USAID-funded initiative "The Expanded Coverage of Essential Health Services Project." For outreach workers like Saida, this is an opportunity to be a community resource—in addition to improving their own knowledge and health practices, they assist clinic-based nurses in linking those in need with available services.

Women rarely play visible public roles in rural Djiboutian society, and are virtually absent from the health care system. Consequently, the predominantly-male cadre of nurses working in the countryside is often unable to be an effective resource for communities since women do not feel comfortable speaking with men about health issues. Female outreach workers such as Saida are helping women access health services and prevent illness, as well as overcome traditional beliefs about both sickness and prevention and women's role in civil society.

The Expanded Coverage of Essential Health Services Project, implemented by John Snow, Inc., aims to provide populations in rural districts with better access quality health services. Its objective is to reduce morbidity and mortality rates among women and children, and promote full community participation in health service delivery. In rural areas, JSI is working with communities to organize and train village health committees, select and train health workers like Saida and renovate, equip and update training for nurses. JSI provides materials, supplies and support to community workers, reinforces linkages between village health workers, the health committee and clinic health providers and provides support for the three parts of the local system.

Saida speaks with confidence about her role as an educator and motivator in a recent polio eradication campaign, and how it enabled her and other community organizers to feel self-assured about their community assessment skills. They now know where children and women in high-risk groups live, even among scattered camps in a radius of several kilometers. Saida worries about the high level of anemia in women, which she can now recognize from physical symptoms, and the commonness of diarrhea among young children, and hopes to help change things. She refers potentially anemic women to the clinic, encourages pre-natal visits and teaches mothers how to rehydrate their children at home and when it is serious enough to seek help from the clinic.

"Before I was an animator, I wasn't sure what to do," Saida says. "Now I know—even though the work is hard sometimes—I like it and will keep doing it."






Related Project:
Djibouti Expanded Coverage of Essential Health Services (Projet PECSE) (2004-2008)