Ukraine: A Global Leader in Family Planning Policy
In 2013, Ukraine celebrated an important public health milestone: the endorsement of new family planning and reproductive health-friendly national policies. The Ministry of Health (MOH) of Ukraine, supported by key partners like the USAID-funded Healthy Women of Ukraine Program (HWUP), developed a comprehensive package of national regulatory documents on family planning and reproductive health (FP/RH) services in Ukraine.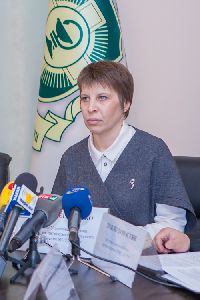 Dr. Tereshchenko at an MOH briefing. Ukraine, January 14, 2014

The policy package includes: 1) the "On improvement of family planning and reproductive health system in Ukraine" order, which was approved by the MOH and the National Academy of Medical Science of Ukraine; and 2) the "On approval and implementation of medical and technical documents on standardization of care in the area of family planning" order. The latter brings into effect new national FP/RH guidelines based on best international practice; serves as a reference for FP/RH practices and technologies for health care providers; and provides a new national clinical protocol that covers rules and requirements for providing FP/RH services.

The package of regulatory documents has been enthusiastically endorsed by members of the Ukrainian medical society and MOH. At the January 2014 MOH briefing where the orders were announced, Dr. Alena Tereshchenko, head of the Maternal and Child Health and Sanatorium Provision Department at the MOH, remarked, "Given such documents, Ukraine should clearly be considered a global leader in the development of family planning policies. We are the only country in the world where a full package of regulatory documents on family planning has been developed and approved." She offered lessons to other countries based on the Ukrainian experience.

The new policies include several innovations aimed at improving, strengthening, and sustaining Ukraine's FP/RH system:

Integrating FP/RH services into routine perinatal care by: 1) strengthening the organizational structure of FP/RH services at different levels of care (i.e. each administrative unit should have a center or cabinet of family planning and reproduction health); 2) outlining collaborative interaction between different levels of care, among different types of health care providers, and between health care providers and civil society; and 3) defining the duties and responsibilities of health care providers in routine FP/RH service provision covering not just family doctors and nurses but also all OB/GYNSs and nurses/midwives working in antenatal clinics, maternities, and gynecological departments. All interventions are aimed at replacing the existing "doctor-oriented" approach to a "patient-oriented" approach.
Empowering family doctors to perform more functions and responsibilities in provision of FP/RH services than previously, with the aim of improving availability and accessibility of FP/RH services for clients.
Creating a new entity–the National Family Planning and Reproductive Health Center–which will be the leading entity in the FP/RH area and will be responsible for FP/RH policy, operational guidelines, and FP/RH in-service education nationwide.
Making essential lists of equipment, supplies, drugs, and informational-educational materials, as well as staff requirements for family planning cabinets/centers.
Identifying qualitative and quantitative indicators for evaluating the effectiveness of the national FP/RH system and guidelines for FP/RH data collection, data sharing, and data analysis.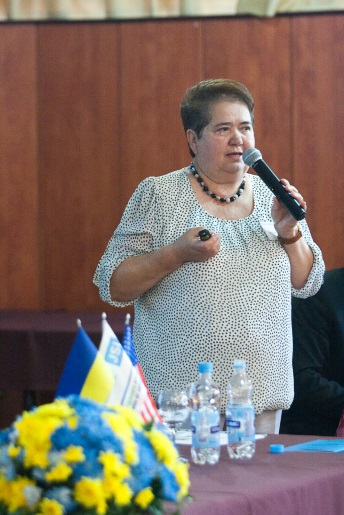 Professor Nina Goida, Vice-Rector of the National Medical Academy of Postgraduate Education (NMAPE), Kyiv, Ukraine May 2014.



Understanding the critical need to roll out newly-developed policies as quickly as possible, HWUP provided technical assistance to the MOH to organize a national dissemination meeting entitled "Improvement of Family Planning and Reproductive Health System in Ukraine." The meeting was held in Kyiv and attended by leading experts in family planning, health care authorities from all regions of Ukraine, representatives from key postgraduate education institutions, multilateral development agencies (UNICEF, UNFPA, WHO, etc.), and other local stakeholders. Opening the meeting, Dr. Alena Tereshchenko said, "Together with our partners we have traveled a long way and today we start to change the FP/RH system to make it more efficient, high quality, and comfortable for clients." She also said Ukraine now has all of the ingredients needed for health system strengthening, including a good foundation and strong commitment to improvement.

HWUP also provided support to the MOH to disseminate nationwidef both newly developed orders and distribute hard copies of policy documents to all regions of the country. Policy documents were accompanied by training materials (including presentations and written explanations) to facilitate regional stakeholder comprehension and adoption. HWUP also organized workshops in partner regions to present and discuss the new FP/RH regulatory documents in detail.

Acknowledging the importance of these contributions, Professor Nina Goida, vice-rector of the National Medical Academy of Postgraduate Education, stated in a May 2014 meeting, "The newly approved national FP/RH orders, along with the training materials that were developed by the Healthy Women of Ukraine Program, comprehensively and clearly reflect new approaches and requirements for both the national FP/RH program and all levels of relevant health care providers, and should now be swiftly implemented in every region. We have a strong regulatory basis and now use of the aforementioned materials in trainings will not only contribute to improved FP/RH knowledge of health providers, but will increase the quality and availability of health care services by bringing it closer to user-clients who, in turn, will safeguard the reduction in maternal mortality rate, improved public health, and birth of healthy and wanted children. I would like to say a big thank you on behalf of the entire medical community and our future healthy Ukrainians."



Related Project:
Ukraine - Healthy Women of Ukraine Program (2011-2016)