Improving Medical Education in Georgia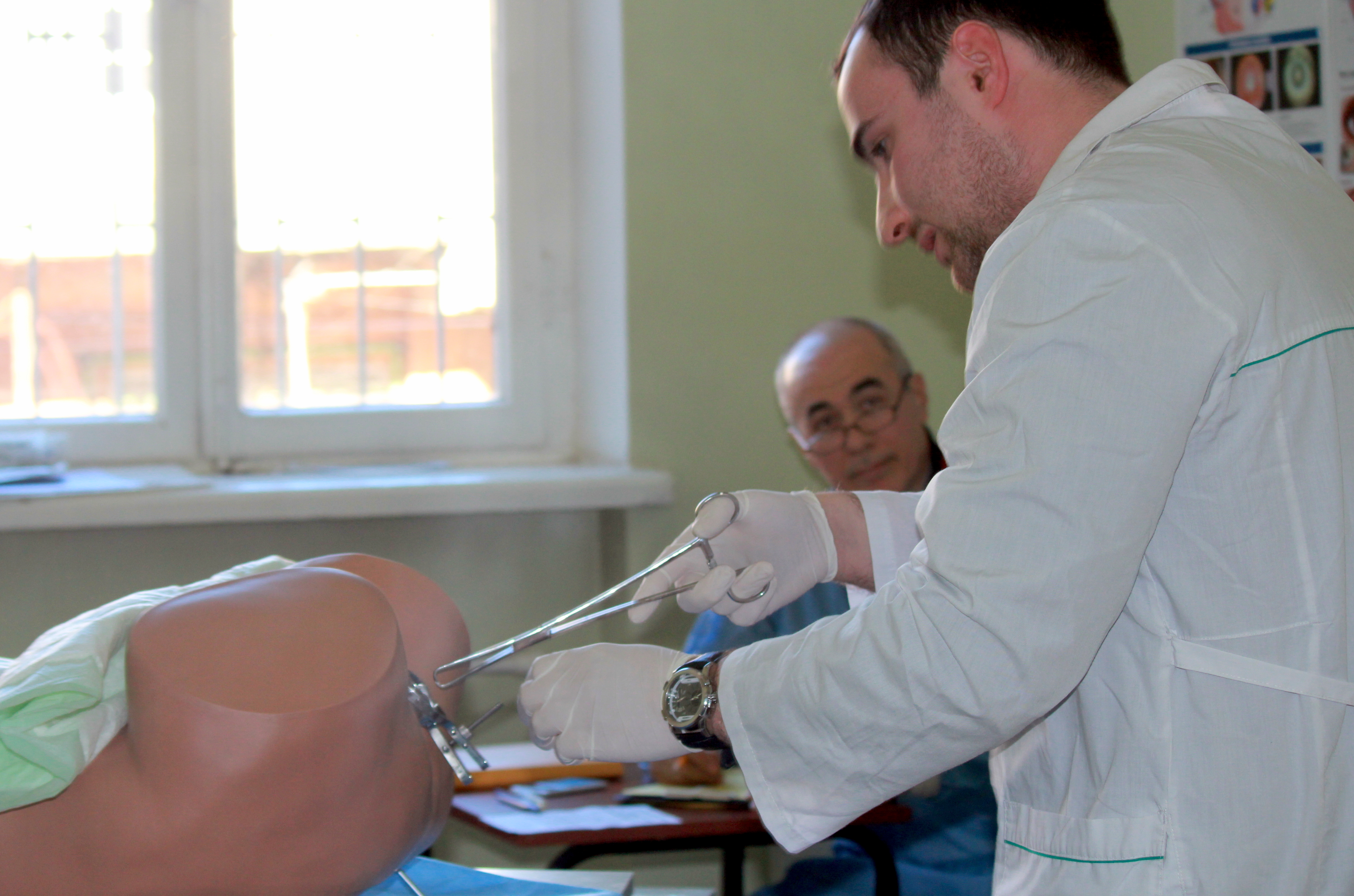 Twenty-two-year-old Ana Kavsadze is a fourth year OB/GYN medical student at Tbilisi State Medical University in Georgia. She comes from a family with a long history of producing Georgian physicians. "My father did a medical fellowship in the United States and I've heard from him how great medical education is in the U.S.," she said. "I am aware that there have been important components missing from my medical education here."

For decades, medical education in Georgia was focused heavily on knowledge, while clinical and communication skills were mostly ignored. Medical exams consisted solely of multiple choice questions. The lack of clinical and patient communication practice for students presented challenges when students became medical practitioners.

"I have friends who graduated from TSMU several years before me who never had the chance to practice their clinical skills before going to work in a hospital," said Ana. "Can you imagine having a medical exam done by a doctor who had never had the chance to practice how to perform that exam or how to talk with a patient?"

Since 2009, USAID's SUSTAIN project has been providing technical assistance to medical education institutions country-wide to introduce new competency-based and practice-oriented teaching strategies. SUSTAIN helped revise the OB/GYN training curriculum, trained OB/GYN faculty on curriculum development, and introduced modern methods of teaching and student evaluation techniques.

To complement these efforts, SUSTAIN also began supporting Tbilisi State Medical University to set up and operate a clinical skills teaching center and to introduce the world-renowned OSCE testing methodology. An OSCE, which stands for objective structured clinical examination, is an evidence-based exam often used in the health sciences (e.g., medicine, nursing, pharmacy, dentistry) to test clinical skill performance and competence in skills such as communication, clinical examination, medical procedures, etc. The test comprises a series of short, timed stations.

In February 2014, Tbilisi State Medical University held Georgia's first OSCE exam in obstetrics and gynecology. The exam, which was given to fourth year medical students, was successfully carried out through a partnership between Tbilisi State Medical University, Oslo University, and the USAID SUSTAIN project.

At TSMU, students' medical knowledge, clinical skills, and communication skills were tested at six exam stations. As 276 students rotated through each station, they were tested on their gynecological examination skills, obstetrical examination skills, IUD insertion skills, and family planning counseling skills. USAID through SUSTAIN provided simulators and medical supplies for the exam (see photo). After the exam several students were randomly selected to participate in a feedback session about their impressions of the OSCE.

On the whole, students spoke positively. Said one student, "[The OSCE] was cool. I have changed three [medical] universities and I have never had such an experience. I prefer these kinds of teaching methods. In other subjects we are forced to mechanically learn the topics by heart. I wish we had OSCE in all other subjects as well."

Said another student, "This course was much more advanced than other courses. It was oriented to teach us rather than to punish us for the lack of knowledge. The professors were very friendly and supportive." 87% of the students who took the OSCE exam agreed that it is an appropriate method to objectively evaluate their knowledge and skills.

Speaking to the fourth year medical students after the exam, one of the TSMU professors said, "You should feel proud of your performance today. You are the very first cohort of Georgian medical students to take the OSCE exam and the hours you have spent practicing in the clinical skills testing center will serve you well when you become doctors."

Dr. Babil Stray Pedersen of the University of Oslo also took a moment to congratulate the students and to remind them that OSCE is the wave of the future. "Soon medical universities all over the world will be using this kind of exam to test students' knowledge, clinical, and communication skills. Each area is a critically important component of becoming an effective medical doctor," she said.

Over the next five years, TSMU is planning to fully integrate the OSCE into the medical curriculum, meaning that students will be evaluated by this performance-based assessment method during every year of their medical education.

Related Project:
Georgia Sustaining Family Planning and Maternal and Child Health Services (Sustain) (2009-2015)