News @ JSI
Find JSI at the 2018 Global Health Supply Chain Summit
November 26, 2018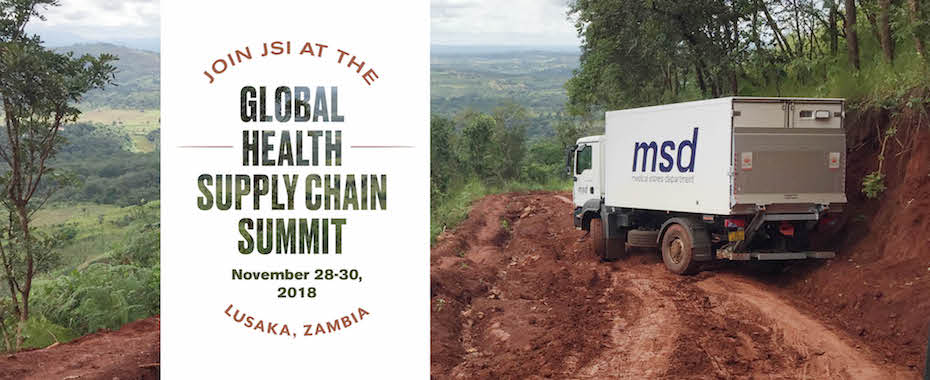 Strong supply chains are critical for saving and improving the lives of children, families, and communities. As countries strive to meet ambitious health goals, JSI is leading the way by building supply chains that can meet the needs of growing populations and respond to changes in disease burdens and emerging health trends.
Join JSI at the Global Health Supply Chain Summit in Lusaka, Zambia, from November 28–30, 2018 to learn about the innovative and cost-effective ways that JSI is helping countries ensure that medicines, vaccines, and other products reach the people who need them.
Download the full schedule of JSI panels, posters, and oral presentations. Follow the conference on Twitter @JSIHealth using the hashtag #GHSCS.
Featured Presentations
Join us to discuss practical, evidence-based ways to manage public health supply chains.
Redesigning the Indonesian family planning supply chain by strengthening organizational capacity, collaboration, and data use
November 28, 2018 | 1:30 PM - 2:45 PM | Mini DOME
Authors: Nurfadliah Abdillah, Omar Balsara, Barbara Lamphere, Sarah Andersson, and Bethany Saad
Open supply chain information is essential for government ownership and sustainability
November 28, 2018 | 4:30 PM - 5:45 PM | Room 1
Authors: Jeremy Sikazwe, Wendy Nicodemus, Gamariel Sipungwe
Pharmaceutical regulatory information systems: the forgotten link for end-to-end visibility
November 29, 2018 | 8:15 AM - 9:30 AM | Mini DOME
Authors: Yordanos Sebsebie, Al Shiferaw, Heran Gerba, Marasi Mwencha, and Paul Dowling
'Advocating for change': Multi-country experience of achieving stakeholders buy-in for immunization supply chain system design
November 29, 2018 | 11:00 AM - 12:15 PM | Mini DOME
Authors: Olamide Folorunso, Ryan McWhorter, Wendy Prosser, and Oliver Defawe
Recommended Reading
Can Contraceptive Availability Be Improved by Strengthening Organizational Supply Chain Capacity, Data Visibility, and Use?
Omar Balsara, Sarah Andersson, Bethany Saad
Using the Internet of Things to Manage Vaccines and Save Lives in Tanzania
Alex Mbyalu
Finding the Perfect Temperature: Protecting Lifesaving Vaccines in Remote Areas
Wendy Prosser