News @ JSI
JSI Hosts Gov. Charlie Baker for a Discussion on the Opioid Crisis
December 19, 2017
Massachusetts Governor Charlie Baker came to JSI on December 15th to discuss the opioid crisis and strategies to ensure that people in Massachusetts who are affected by it have access to treatment and recovery services.

According the Third Quarter Massachusetts Opioid report, as of September 2017, there were 932 opioid-related overdose deaths, and an estimated 500 additional deaths by the end of the year. Yet the upward trajectory in the estimated death rate is slowing down. In 2015, for example, the rate had increased by 32%; in 2016 the increase was 21%.

The opioid crisis is one of the Baker administration's focal points. The governor began to understand the magnitude of the crisis during his campaign, when he visited emergency rooms around Boston to ask about the number of opioid overdose-related visits. As hospital staff described it—"an avalanche, a catastrophe, catastrophic."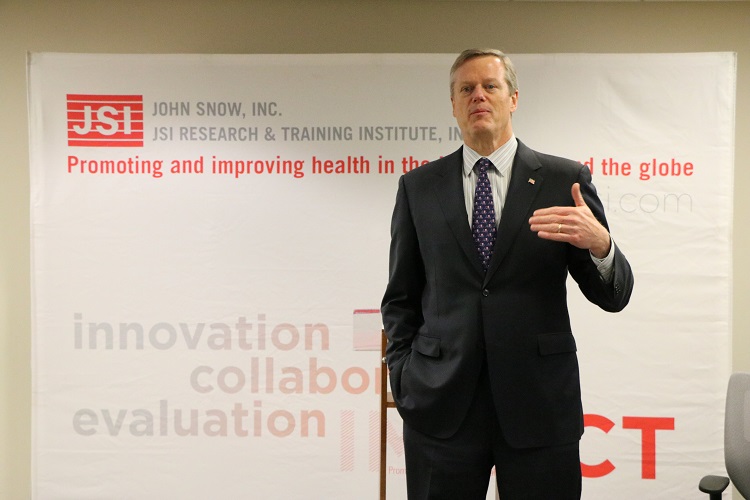 Governor Charlie Baker discusses the Massachusetts opioid crisis at JSI.
When he became governor, Baker took swift action to improve prevention, education, intervention, treatment, and recovery in Massachusetts.
One of the biggest obstacles to providing care is the stigma related to seeking help for opioid use, because "people dealing with it have a hard time talking about it," commented Baker. In response, his administration launched the
State Without StigMA
campaign, similar to the
Anyone.Anytime.NH
campaign that JSI implements in New Hampshire.
Another form of stigma in the U.S. is the fear of failure. Governor Baker noted from his own experiences that failure is often "a step on the road to success." He recognizes that recovery takes time and and most often, multiple attempts.
A critical part of support and control is making it harder to access opioids. The U.S. consumes 80% of the world's prescription opioids. While at JSI, Baker spoke of his desire to build a 'blister pack' for pain—similar to a 'z-pack—that would be a more sustainable form of pain relief than a 30-day prescription. He acknowledged the need for a reduction in prescriptions and a return to therapies other than chemicals to manage acute pain.
For the first nine months of 2017, Massachusetts saw a
decreasing upward trajectory in opioid-related deaths
—a testament to the administration's efforts.
"It is important for JSI staff to be able to hear from our governor about some of the concrete policy implications of the work we do day-in and day-out," commented JSI President Joel Lamstein.
For more than 25 years, JSI has supported state and community efforts to increase timely access to the substance use continuum of care. Learn more about JSI's response to the
opioid crisis
.