News @ JSI
TRANSFORM: Primary Health Care Project is Launched in Ethiopia
November 1, 2017
JSI's newest project in Ethiopia, TRANSFORM: Primary Health Care, was launched in Addis Ababa on October 16, 2017. The USAID-funded project is part of a suite of four projects that will help prevent maternal and child deaths in the country.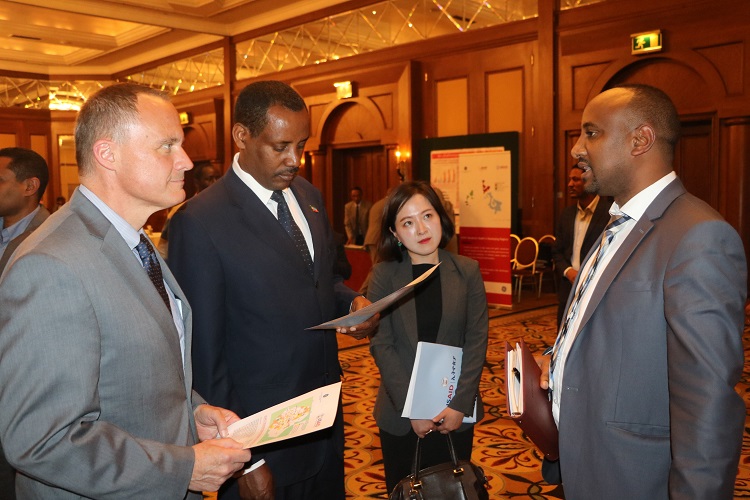 Transform: Primary Health Care (PHC) works to strengthen Ethiopia's health system, increase the quality of service delivery across the continuum of care, and improve household and community health practices and health-seeking behaviors. TRANSFORM:PHC will work in more than 400 rural woredas of Tigray, Amhara, Oromia, and Southern Nations Nationalities and Peoples regions, benefiting almost 42 million people.
U.S. Ambassador Michael A. Raynor, Ethiopia's Minister of Health Professor Yifru Berhanthe, and the Korea International Cooperation Agency representative Ji-eun Seong spoke at the launch. "A healthy population is a critical building block for achieving any development goal. Investments in a strong education system and a growing industrial sector are important, of course, but without a healthy population to educate and employ, everything else falters," Ambassador Raynor said.
Also speaking at the launch, Transform: PHC Deputy Chief of Party Binyam Desta of JSI, said the project's "goal is to collaborate with the Federal Ministry of Health and regional health bureaus to achieve sustainable progress toward eliminating preventable maternal and child deaths."
The TRANSFORM projects will support the Government of Ethiopia's health sector efforts in agrarian and pastoral regions. The other TRANSFORM projects are Health in Developing Regions; Water, Sanitation, and Hygiene; and Monitoring, Evaluation, Learning, and Adapting.
TRANSFORM:PHC is implemented by Pathfinder International, JSI Research & Training Institute, Inc., Abt Associates, the Malaria Consortium, Encompass, and the Ethiopian Midwives Association.