Publications
My Life, My Power: A Training Curriculum for Peer Educators and HIV Prevention and Risk Reduction Among MSM in Kenya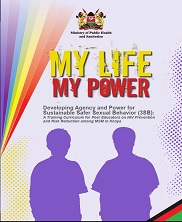 The Kenya National HIV and AIDS Strategic Plan 2005/6 – 2009/10 (KNASP) identifies the need to increase access to HIV and STI prevention, treatment, and care for vulnerable and key populations at risk such as men who have sex with men (MSM). NASCOP and partners have developed National Guidelines for HIV/STI Programs for Sex Workers and Standards for Peer Educator Quality Assurance. In these guidelines, peer education is recognized as an important element of the behavioral component.
Globally, and in many parts of sub-Saharan Africa, the issues and needs of MSM have received limited attention and resources up to now. Homophobia, discrimination, criminalization of same-sex sexual activity, social exclusion resulting from prejudice against non-heterosexual orientation, and denial of human rights, particularly the right to health, are powerful factors of increasing MSM vulnerability. These factors create social ecologies in which responses and interventions to reduce HIV and STIs are hampered.
This curriculum aims to develop agency and power for sustainable safer sexual behavior (3SB) for peer education in HIV prevention and risk reduction among MSM in Kenya. The curriculum focuses on reducing HIV and STIs among MSM and ensuring their right to health as any other citizen and human being. The curriculum is designed for training peer educators and contains the facilitator's guide as well as participant handouts. The manual adopted existing tried and tested approaches and methodologies in HIV programming that are audience appropriate.
Download (PDF, 18.41 MB)