Publications
Improving Provider Communication to Improve Transitions in Patient Care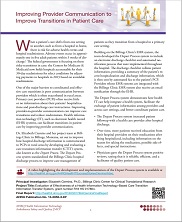 One of the major barriers to coordinated and effective care transitions is poor communication between providers which is often exacerbated in rural areas. Improving provider-to-provider communication can improve care transitions and reduce readmissions. Health information technology (IT), such as electronic health record (EHR) systems, can facilitate transitions in patient care by improving provider communication.
This success story highlights Dr. Elizabeth Ciemins and her project team at Billings Clinic in Billings, Montana. They set out to improve how hospital discharge information is communicated to PCPs in rural areas by developing and evaluating a care transition information transfer (CTIT) system, also known as the Depart Process.
View this
video
highlighting the development and implementation of the Depart Process system.
Download (PDF, 269 KB)