Publications
HIV/AIDS CLINICAL CARE QUALITY ASSURANCE PROJECT: Trends in Clinical Performance & Clinical Outcomes in Massachusetts Funded Clinics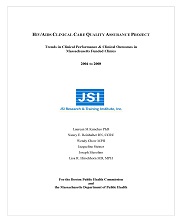 To evaluate performance in HIV clinical services, determine best practices, and identify opportunities for improving care and health outcomes for people living with HIV, JSI has conducted biannual reviews of HIV/AIDS primary medical care. Sites have included Boston Public Health Commission (BPHC) HIV/AIDS Services Division and Massachusetts Department of Public Health (MDPH) Office of HIV/AIDS funded clinics. This report describes the clinic and system level results of the most recent data reviews compared to earlier years.
Four cycles of review have been completed yielding a total of nine years of data (2000 - 2008) for participating sites (see Appendix A). Most recent data (2007 - 2008) that is the focus of this report was obtained from 14 sites on nearly 1,000 patients. Our sample includes the original cohort of a random set of patients reviewed since 2000, patients newly entering care at the sites in 2001 and 2002, and patients newly diagnosed with HIV and entering care between 2003 and 2007.
Data elements and methods used in this project were adopted from a data collection strategy initially developed by JSI for the MDPH in collaboration with clinics participating in the ACT- Now Program, which was subsequently replaced by Enhanced Medical Management Services (EMMS). JSI nurses and trained research assistants conducted detailed medical chart reviews on a random sample of all active patients at each site (all patients were reviewed at sites with smaller HIV caseloads). In more recent years, many clinics have converted to electronic medical records and thus both paper and electronic sources were used to ensure the fullest data capture. Kunches, Laureen; Reinhalter, Nancy; Chow, Wendy; Steiner, Jacqueline; Musolino, Joseph; Hirschhorn, Lisa, JSI Research & Training Institute, Inc. 2010.
Download (PDF, 789 KB)