Publications
HIV/AIDS Clinical Care Quality Assurance Project: HRSA/HAB, in+care and Other Non-HAB Performance Measurement Results in Massachusetts Clinics, 2010 to 2011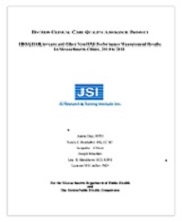 Since 2000, John Snow, Inc. has conducted medical record reviews on a sample of HIV patients engaged in medical care in Massachusetts to measure performance across a range of clinical care and treatment areas. Sites participating in these chart reviews receive funding from the Boston Public Health Commission (BPHC) HIV/AIDS Services Division and Massachusetts Department of Public Health (MDPH) Office of HIV/AIDS (OHA).
Biannual chart reviews have occurred since 2000 (covering patients receiving care in 1999) with the exception of 2009. 22 sites participated in the 2010/2011 chart review cycle. Data collection for the 2010/2011 chart review view cycle also focused on collecting data specific to the three groups of the Health Resources and Service Administration (HRSA) HAB core clinical performance measures and the four in+care campaign measures. In addition, several other screening indicators (i.e. mammograms, urinalysis, glucose screenings) and some HIV specific performance measures (i.e. all viral loads in a review year less than 200 copies/ml and last CD4 cell count less than 200 cells/mm) that are not included in the HAB performance measures were also examined.
This report describes the clinic/site level and statewide results for all of these performance measures. Day, Jeanne, MPH, Reinhalter, Nancy E., RN, CCRC, O'Brien, Jacqueline, Musolino, Joseph, Hirschhorn, Lisa R., MD, MPH, Kunches, Laureen M., PhD, JSI Research & Training Institute, Inc., June 2013.
Download (PDF, 1.40 MB)