Publications
SPRING/Ghana: Reducing Aflatoxin Risks as Part of a Multi-sectoral Approach to Nutrition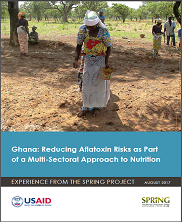 Food safety is an underlying driver of undernutrition. Unsafe foods lead to disease and chronic conditions that prevent the body from properly absorbing food nutrients SPRING/Ghana takes a multi-sectoral approach, simultaneously addressing both the direct and underlying causes of malnutrition.
Groundnuts are a staple legume in the northern regions of Ghana. Aflatoxins are toxic compounds produced by molds and are common contaminants in maize and groundnuts.
This technical brief highlights SPRING/Ghana's approach to reduce aflatoxin contamination in groundnuts as a means to reducing chronic exposure to this toxin, which contributes to stunting and anemia during the 1,000-day period between pregnancy and a child's second birthday.The brief highlights proper growing, storing, and managing the crop, as well as how the program has reinforced messages through various media and equipment distribution. It also highlights lessons learned and recommendations for other nutrition programs working in groundnut production. JSI/SPRING Project, 2017.
Download (PDF, 4.01 MB)