Publications
PEPFAR's Best Practices for Voluntary Medical Male Circumcision Site Operations: A Service Guide for Site Operations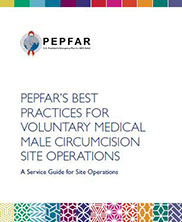 This document provides implementing partners supported by the U.S. President's Emergency Plan for AIDS Relief (PEPFAR) with a collection of the best resources available for sites providing voluntary medical male circumcision (VMMC) for HIV prevention.

This is Edition 2; Edition 1, released in 2013, focused on assisting implementing partners and site staff with opening new VMMC service locations. The first version covered all aspects of the planning, launch, and oversight of daily operations at the site level.

Given the maturation of VMMC programs since 2012, this edition focuses on optimizing management of existing service locations, though chapters still remain for those establishing new sites. The primary intended audience for Edition 2 remains site-level staff, with different chapters most relevant to different staff positions. AIDSFree. 2017.
Download (PDF, 8.15 MB)