Publications
Immunization review meetings: "Low Hanging Fruit" for capacity building and data quality improvement?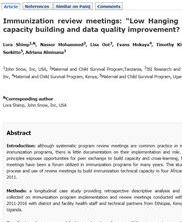 Although systematic program review meetings are common practice in many health and immunization programs, there is little documentation on their implementation and role. Adult education principles espouse opportunities for peer exchange to build capacity and cross-learning, for which review meetings have been a forum utilized in immunization programs for many years.
This study describes the process and use of review meetings to build immunization technical capacity in Ethiopia, Kenya, Tanzania and Uganda from 2011-2016. Based on findings from 200+ review meetings in these four countries, these meetings have been shown to be effective tools for improving immunization program performance and the capacity of health staff. In combination with other performance improvement approaches (such as supportive supervision, training, and on-the-job learning and assessment), review meetings can also contribute to achievement of immunization and health outcomes.
Authors: Lora Shimp, Nassor Mohammed, Lisa Oot, Evans Mokaya, Timothy Kiyemba, Gerald Ssekitto, Adriana Alminana