Publications
Lessons Learned: HPV Vaccine Introduction in Madagascar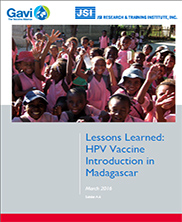 In 2013 Madagascar began its pilot introduction of the Human Papilloma Virus (HPV) vaccine, using an introduction grant and vaccines supplied by Gavi, the Vaccine Alliance (Gavi). The pilot was carried out in two districts—Toamasina I (urban) and Soaviandriana (rural)—over a two-year period.
Throughout the first phase of the introduction, the implementing agencies, led by the Ministry of Health and Family Welfare (MoHFW) and the Ministère de l'Education Nationale (MEN), followed a collaborative, iterative planning and monitoring process that included coordination through a multi-partner HPV pilot committee, with technical representatives from immunization and infectious diseases, adolescent services, education, and partner organizations. This required new strategies—such as school-based vaccination and enumeration and special outreach services—for the health program, schools, and communities to work together to target an age group not traditionally covered by vaccination services.
The experiences from the pilot identified several challenges in planning and implementation, but also demonstrated the country's ability to overcome bottlenecks and ultimately succeed in reaching Gavi's required coverage target of 50% or higher. One particular challenge included engaging all appropriate stakeholders well in advance in order to garner their support for the introduction. Another bottleneck involved resistance from religious organizations stemming from a combination of misunderstandings about the vaccine and oversight by the planning committee in properly informing and involving church leadership in the planning and implementation process. A third important difficulty involved the heavy resource burden (human, time and financial) required to carry out the original campaign-style strategy.
This report details the lessons learned from the pilot experience and provides recommendations for consideration when designing and implementing HPV introductions that can be applied to future pilots and/or nationwide rollout in Madagascar and other countries. JSI, 2016.
Download (PDF, 2.13 MB)
Download French Version (PDF, 1.19 MB)