Publications
Integrated Community Case Management of Childhood Illness: Documentation of Best Practices and Bottlenecks to Program Implementation in the Democratic Republic of Congo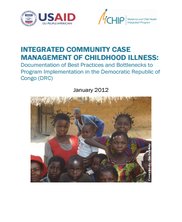 Although infant and child mortality rates have declined appreciably in most developing countries, children under five continue to die at unacceptably high rates, often of preventable causes such as malaria, diarrhea, and pneumonia. According to a recent analysis, it is estimated that pneumonia is responsible for 18% of under-five deaths, diarrhea for 15%, and malaria for 8%.1 Although simple, cost-effective interventions are available for these diseases, a major challenge remains: in most countries where morbidity and mortality among children is high, access to health facilities and/or the quality of services offered still represent major challenges.
Infant and child mortality rates in the Democratic Republic of Congo have decreased from the world record levels in 2001 (respectively at 121 and 121 per thousand) to 97 and 158 per thousand in 2010. Tremendous efforts are still required to achieve the Millennium Development Goals, however.
The DRC will have to address a number of challenges to expand and institutionalize the strategy throughout the country: develop a strategic plan and a multi-year inclusive budget; address the issues with the supply chain management, especially stock outs; ensure that roles and duties are clearly defined at all tiers; and revitalize promotion and prevention in order to achieve better synergy of actions. Authors: Serge Raharison;Fatim Tall; Eric Swedberg; Yves Cyaka. JSI/MCHIP, 2012.
Download (PDF, 9.90 MB)