Publications
Integrated Community Case Management at Scale in Ethiopia: Evidence and Experience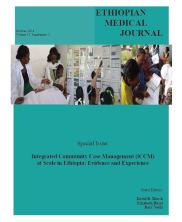 JSI staff contributed several articles to a special supplement to the Ethiopian Medical Journal on Ethiopia's integrated community case management (iCCM) program.
The national iCCM program was officially launched in February 2010. The program was designed to build the capacity of Ethiopia's existing cadre of Health Extension Workers (HEWs) to assess, classify, and treat pneumonia--the leading cause of preventable death among newborns and children--at the community level. To date, more than 30,000 HEWs have been trained and supported to provide iCCM at over 14,000 health posts. Brought to scale, iCCM for pneumonia could save 40,000 lives annually in Ethiopia.
This supplement includes editorials and twenty-two original articles on the experiences, lessons learned, and results from nearly five years of iCCM implementation. Three JSI projects that support iCCM implementation throughout Ethiopia—the Last 10 Kilometers (L10k) Project, the Integrated Family Health Project, Supply Chain for Community Case Management (SC4CCM)—contributed articles to the supplement.
Download (PDF, 2.10 MB)