Publications
Gates Supply Chain - Neglected Tropical Diseases (SC-NTDs) Project Resources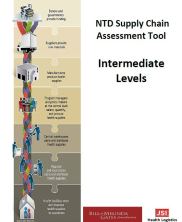 The Gates Foundation contracted JSI to implement the Improved Supply Chains for NTD Drugs ("SC-NTD") project. The goal of this project was to strengthen and improve supply chains for drugs that prevent and treat neglected tropical diseases (principally preventive chemotherapy drugs) to help achieve the
London Declaration goals
. The SC-NTD project team developed the following resources in accordance with the project activities and goals.
1.
NTD Supply Chain Landscape Analysis
What we know about global NTD drug supply chain efforts to date. The following annexes are included.
Annex: Segmentation Analysis
Application of Commercial sector approach to public health supply chains to analyze possible NTD drug "piggybacking" on existing distribution systems.
Annex: Benchmarking Analysis
Measurement of NTD drug supply chain performance against other comparable supply chains.
2.
Non-NTD Supply Chain Landscape Analysis
How the non-NTD experience informs NTD last mile supply chains.
3.
Country Reports Based on Assessments in Three Countries
Findings from last-mile NTD supply chain assessments in Malawi, Ghana and Tanzania.
SC-NTD Ghana Trip Report
SC-NTD Malawi Trip Report

SC-NTD Tanzania Trip Report
4.
Supply Chain Assessment (SCA) Tools
Evaluation tools for assessing last-mile NTD supply chains at three levels; central, intermediate and health facility.
SCA Central Level
SCA Health Facility Level
SCA Intermediate Level
5.
Development Plan
Recommendations for NTD last-mile supply chain optimization globally and for three focus countries.
6. Summary Report (Download
pdf
or
ppt
)
Summary overview of all project deliverables and recommendations
7. Infographic:
Key Strategies for Strengthening NTD Supply Chains
8.
Project Outputs: Drivers of SC-NTD Recommendations