Publications
The Center for Capacity Development at JSI and World Education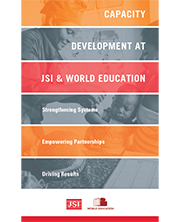 Capacity development is at the core of our work. Across all of our projects, in almost every corner of the globe, we aim to develop stronger systems, and enable organizations and individuals to maximize impact and mobilize funding to make lasting social change.
JSI and World Education launched the Center for Capacity Development in 2012 to institutionalize this ongoing work. The Center brings together the best learning from over 6,000 JSI and World Education projects in more than 80 countries including the United States.
The Capacity Development Center promotes best practices, draws on state-of-the-art resources from around the world, promotes innovation, and shares tools and approaches across projects, disciplines, and contexts.
The Capacity Development Center is a repository of JSI and World Education's deep expertise in this field and is available to our partner organizations and other stakeholders, and to our projects worldwide. Please contact us for more information or to learn about the different tools and approaches we have developed or how we can help your organization. JSI and World Education, 2016.
Download (PDF, 1.45 MB)