Publications
Ethiopia: IPLS for HEWs Training- Midline Evaluation Report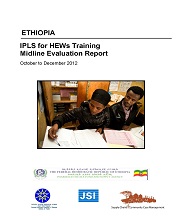 The midline evaluation report illustrates that improving the skills of health extension workers (HEWs) in supply chain management is integral to strengthening the supply chain, and laying the foundation for improving overall availability of essential health products at the community level.
Results from the midline assessment and data validation workshops indicate that increasing fundamental supply chain management knowledge and skills of HEWs is feasible and can be accomplished in an affordable, effective manner using the Integrated Pharmaceutical Logistics System (IPLS), HC staff and existing opportunities. The results further identify important lessons and guidance on key elements to include in the training curriculum and approach to ensure its success.
This information can be useful for project managers and in-country stakeholders looking to implement other projects to improve supply chain practices in rural communities.
Supply Chains for Community Case Management (SC4CCM) is a learning project that identifies proven, simple, affordable solution to address the unique supply chain challenges of community health workers (CHWs). Working with government community case management (CCM) initiatives in Ethiopia, Malawi, and Rwanda, over 12-24 months SC4CCM tested supply chain interventions to improve access to medicines so CHWs can treat common childhood illnesses like pneumonia, malaria, diarrhea, and malnutrition.
JSI/SC4CCM. 2012.
Download (PDF, 991 KB)