Publications
Rwanda CCM Supply Chain Baseline Assessment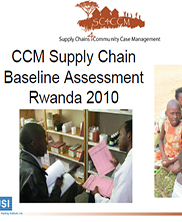 This presentation provides an overview of a community case management supply chain baseline assessment in Rwanda.
In 2010, the Supply Chains for Community Case Management (SC4CCM) project partnered with the Rwanda Ministry of Health (MOH) Community Health Desk to conduct a baseline assessment and to develop effective approaches to address the identified gaps in the resupply process for the over 30,000 CHWs who manage lifesaving medicines and other health products in the country. Issues identified include low product availability, no standard procedures for resupplying CHWs, and supply chain transportation challenges.
This presentation highlights innovative solutions the project tested to address supply chain problems at the community level in six districts, improvements in supply chain performance at the community level, and recommendations for scale-up. The objective of the assessment were to identify strengths and gaps in the existing supply chain for community case management (CCM), identify factors of supply chain performance to inform the design of an intervention strategy and to provide baseline data to measure the impact of the supply chain interventions later in the life of the project.
Supply Chains for Community Case Management (SC4CCM) is a learning project that classifies proven, simple, affordable solution to address the unique supply chain challenges of community health workers (CHWs). Working with government community case management (CCM) initiatives in Ethiopia, Malawi, and Rwanda, over 12-24 months SC4CCM established supply chain interventions to improve access to medicines so CHWs can treat common childhood illnesses like pneumonia, malaria, diarrhea, and malnutrition. SC4CCM is now working with Ministries of Health (MOH) and partners to scale up and institutionalize proven interventions. JSI/SC4CCM Project, 2010.
Download (PDF, 2.16 MB)