Publications
First Learning Sessions in Nyabihu, Ngoma, and Rutsiro Districts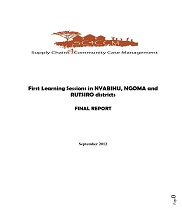 This report highlights the process and results from the introduction of learning sessions in three districts in Rwanda.
In order to improve the resupply procedures for community case management (CCM), quality improvement teams were put in place in three districts to implement a quality collaborative (QC) intervention. These quality improvement members were trained to get knowledge, practical skills on the QC process, and tools (core implementation package) to practice the resupply procedures of drugs and commodities for community case management.
During the QC launch workshop, the concept of learning sessions was introduced to share their best practices documented every 3 months. This report provides details on the process for implementation and best practices gathered during the learning sessions.
Supply Chains for Community Case Management (SC4CCM) is a learning project that classifies proven, simple, affordable solution to address the unique supply chain challenges of community health workers (CHWs). Working with government community case management (CCM) initiatives in Ethiopia, Malawi, and Rwanda, over 12-24 months SC4CCM established supply chain interventions to improve access to medicines so CHWs can treat common childhood illnesses like pneumonia, malaria, diarrhea, and malnutrition. SC4CCM is now working with Ministries of Health (MOH) and partners to scale up and institutionalize proven interventions. JSI/SC4CCM, 2012.
Download (PDF, 1.31 MB)