Publications
Enhanced efficiency of provider-initiated HIV counseling and testing (PITC) in detecting HIV infection among youth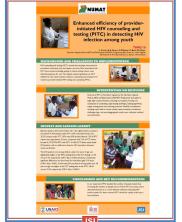 HIV counseling and testing (HCT) remains the strategic entry point to prevention, treatment, care and support services. New innovations into HCT have evolved, including testing in clinical settings where most infected people go for care. The Uganda national guidelines on HCT shifted from the client-initiated voluntary counseling and testing (VCT) model to provider-initiated HIV testing and counseling (PITC).
Roll-our of PITC in Northern Uganda by the JSI-managed Northern Uganda Malaria, AIDS and TB (NUMAT) Programme took place in eight high caseload facilities, including six hospitals. Training was conducted on counseling, rapid testing technique, testing algorithms, supply management and ordering protocols. Monthly coordination meetings were held to review results, assess inventory and discuss challenges. Age- and sex-disaggregated results were collected, collated and contrasted.
Presented at the 2012 International AIDS Conference by Andrew Ocero. JSI/NUMAT, 2012.
Download (PDF, 1.01 MB)