Publications
The Logistics Handbook: A Practical Guide for the Supply Chain Management of Health Commodities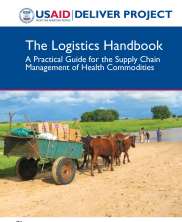 In 2011, the USAID | DELIVER PROJECT released an updated version of the widely-recognized Logistics Handbook.
The Logistics Handbook: A Practical Guide for the Supply Chain Management of Health Commodities
explains the major aspects of supply chain management with a focus on public health.
The Logistics Handbook features:
sections on product selection, procurement, and system design;

revised sections on monitoring & evaluation, quantification, and storage and distribution;

a user-friendly design with color and graphics;

updated resources, including both project and partner-produced tools; and

real-life country examples from all USAID | DELIVER PROJECT areas.
The updated handbook is particularly useful for program managers who design, manage, and assess logistics systems for health programs. In addition, policymakers, system stakeholders, and anyone working in logistics will also find it helpful as an overview of and overall approach to supply chain management.