Safina is a 20-year-old woman who lives in the Mityana District of Uganda. Like thousands of other young women in Uganda, Safina was forced to drop out of school after becoming pregnant. With no support from the child's father, she was forced to live with her parents and work odd jobs to take care of herself and her 1-and-a-half-year-old daughter.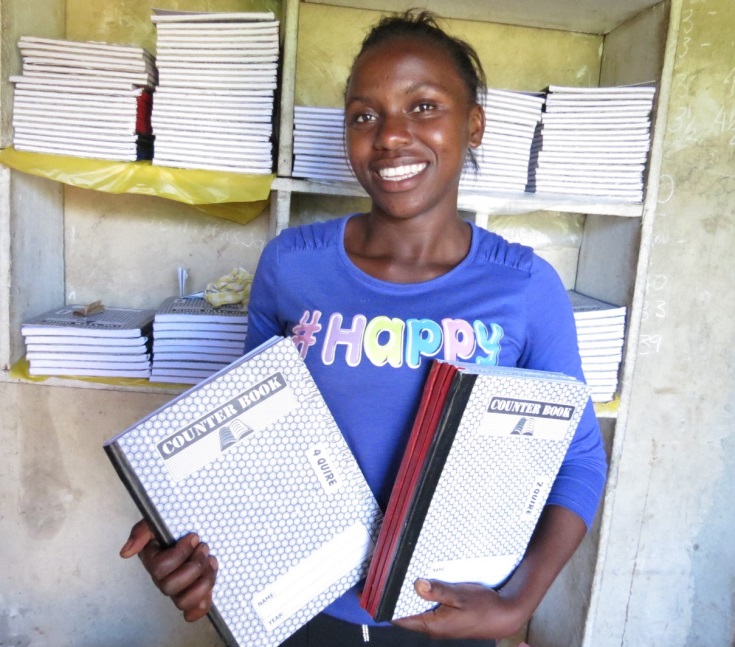 In February, Safina attended a two-day training at the Mityana Public School to learn locally applicable marketing skills. She will also receive assistance from Aidsfonds, a Sparked Women DREAMS project grantee, to help her start a small business.
At the training, Safina learned how to make six products that were hand-picked for her community, including paper bags, fruit juice, reusable sanitary pads, cakes, and notebooks. She is one of 15,500 young women who will participate in this type of training.
After training, Safina started a micro-enterprise selling notebooks. In the first month, she sold 126 books and generated a profit of 100,000 Ugandan Shillings, approximately $27 US dollars. Due to her success and her growing number of customers, Safina has opened a shop in Mityana Town. She has also trained 10 other young women.
Her newly earned income has significantly helped improve her child's wellbeing.
"Now that I have my book-making business I feel confident and I started saving for my dream," says Safina.
Watch this video to learn more about the Sparked Women DREAM project and what Aidsfonds is doing in Uganda. You can also follow their video series, which documents the stories of other young Ugandan women who are gaining employment skills to reduce their risk of contracting HIV through sexual coercion and risky practices.
The DREAMS Innovation Challenge is an $85 million investment funded by the U.S. President's Emergency Plan for AIDS Relief (PEPFAR); Janssen Pharmaceutica NV (Janssen), one of the Janssen pharmaceutical companies of Johnson & Johnson; and ViiV Healthcare. JSI Research & Training Institute, Inc. supports 46 of the 55 DREAMS Innovation Challenge (DREAMS-IC) winners selected to execute cutting-edge programs across the 10 DREAMS countries: Kenya, Lesotho, Malawi, Mozambique, South Africa, Swaziland, Tanzania, Uganda, Zambia, and Zimbabwe. JSI works with the grantees to develop organizational capacity where needed, manage funds, and provide overall program support for DREAMS–IC. Our technical assistance focuses on strengthening our partners' institutional capacity to manage awards in compliance with U.S. Government regulations and supporting them in reaching the DREAMS–IC goals.