Since 2011, JSI has been improving the quality of health services in Madagascar through community-based malaria work in remote north and west districts, and community health workers have been integral to this effort. JSI's USAID-funded MAHEFA project provides training and equipment that has allowed community health workers to recognize symptoms of malaria, use a rapid test to diagnose it, and treat children who have it.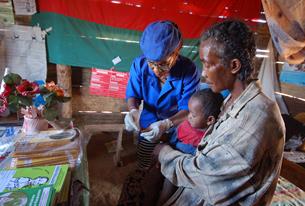 In October 2013, MAHEFA visited Pelandrova, a community health worker in the Boeny region, who has worked with the project since it began. Pelandrova's community had recently built her a permanent work site.
On the day of the visit, Pelandrova examined a three-year old boy who was suffering from a high fever. As she suspected, the boy tested positive for malaria. Pelandrova gave him artemisinin-based combination therapy (ACT), a highly effective and safe antimalarial treatment. She talked with the boy's grandmother about the importance of the boy sleeping under a mosquito net and clearing undergrowth that might be a mosquito habitat near the house. Pelandrova also explained that children must be brought to care as soon as malaria symptoms begin, because prompt treatment prevents serious complications.
When Pelandrova sees severe cases, she refers patients to the nearest basic health center. This referral works both ways, as basic health centers send patients to Pelandrova when they run out of rapid diagnostic tests for malaria testing, which happens often.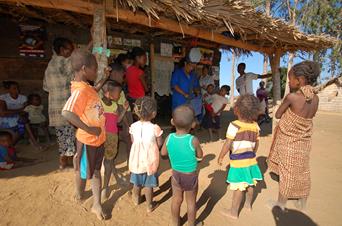 After Pelandrova started working at her new work site, she saw more children under the age of five testing positive for malaria. She attributed the increase at least partially to the fact that her health services were more accessible, so more people were able to come when they were sick. Meanwhile, Pelendrova uses every interaction with community members to promote better health. On infant weighing days, she counsels parents on malaria prevention and nutrition, and conveys other important health messages for pregnant women and children under the age of five.
Pelandrova's own family lives a several-hour walk from her work site. Pelandrova lives at the work site all week and travels home on Friday afternoons to spend weekends with her daughter. The bike that Pelandrova received from JSI reduces her commute to a manageable 45 minutes and allows her to visit homes in parts of the village that are too far to reach by foot. Pelandrova also rides her bike to monthly basic health center meetings, where she gets additional training and support. As Pelandrova says, "[the meetings] give me the opportunity to meet with other community health workers and learn from their experiences."
At the 2015 World Malaria Day observance, MAHEFA-trained community health workers helped convey the message that "Mosquitoes, flies, ticks, and bugs are a threat to your health—and that of your family—at home and when traveling," by helping communities in all MAHEFA-supported districts clear undergrowth at houses, health centers, and schools.
JSI's work with community health workers has resulted in:
More than 1.6 million people received messages about malaria prevention in pregnant women.
Approximately 2.3 million people received messages about malaria prevention in children under five.
Approximately 97,000 children under five were treated with ACT after testing positive for malaria.