Patricia Mbula is a 22-year-old DREAMS Innovation Challenge beneficiary from Kibera, a neighborhood in the city of Nairobi, Kenya. She is the second of four children and lives with her single mother and siblings in a one-room house. Her parents separated when she was a young girl. Her father provides no support to the family.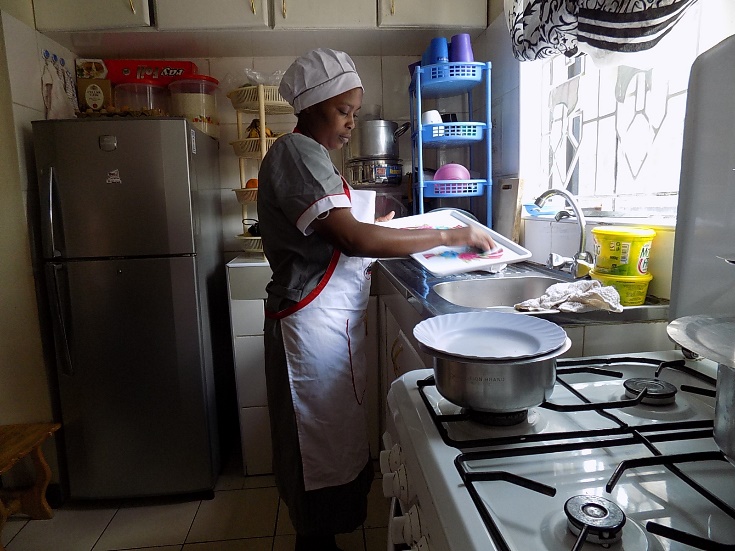 Her mother collects and sells firewood for survival. The business is unstable, as there are very few sources of firewood within the city. On a good day, her mother collects Ksh 400. Other days she comes home with nothingPatricia completed her secondary education in 2015 and scored well. Due to financial constraints, she was unable to attend college. Instead, she had to take a job as an untrained housekeeper.A local village elder referred Patricia to the pioneering class of Anada Marga Universal Relief Teams' (AMURT) Ajiri Dada project in December 2016. Patricia did not hesitate to take the opportunity.The training taught her a variety of skills, including cookery, cleaning, home management, home and occupational safety, labor laws, and child care. After the training, Patricia was linked to employment at a salary of Ksh 10,800."I used to earn Ksh 2,500 as an untrained housekeeper, but after training, I was linked to jobs that met the minimum government wage. At least I now know that I cannot be employed for less than Ksh 10,000," says Patricia.Patricia has applied her new skills to great effect. "She is good with the baby, does well at housekeeping, cooks well, and is very respectful," says her employer.Since she started working, she has been able to pay for her family's rent and contribute to their other needs. By the end of May 2017, Patricia had saved Ksh 28,000. She plans to use this money to enroll in either a catering or salon course with the goal of starting her own business and possibly moving her family out of the slum.Patricia has become an inspiration to other girls within her community who are vulnerable but look down on housekeeping jobs. She has already referred two girls to the program. She says that apart from economically empowering adolescent girls and young women, the program is fighting for girls' rights. For Patricia, life is getting better and better each day and she now sees the light at the end of the tunnel.
The DREAMS Innovation Challenge is an $85 million investment funded by the U.S. President's Emergency Plan for AIDS Relief (PEPFAR); Janssen Pharmaceutica NV (Janssen), one of the Janssen pharmaceutical companies of Johnson & Johnson; and ViiV Healthcare. JSI Research & Training Institute, Inc. supports 46 of the 55 DREAMS Innovation Challenge (DREAMS-IC) winners selected to execute cutting-edge programs across the 10 DREAMS countries: Kenya, Lesotho, Malawi, Mozambique, South Africa, Swaziland, Tanzania, Uganda, Zambia, and Zimbabwe. JSI works with the grantees to develop organizational capacity where needed, manage funds, and provide overall program support for DREAMS–IC. Our technical assistance focuses on strengthening our partners' institutional capacity to manage awards in compliance with U.S. Government regulations and supporting them in reaching the DREAMS–IC goals.