Even with Mariam's 11 years of experience working on various social welfare projects in her native Tanzania, she was always challenged when it came to managing vulnerable individuals' cases—especially when the individuals were affected by HIV. Mariam wasn't sure how to help them get the health and social welfare assistance they needed.
Thanks to the training that she received through the USAID-funded Community Health and Social Welfare Systems Strengthening Program (CHSSP), she is now equipped to help. CHSSP enables providers of community health and social welfare services to help HIV affected populations know their status, improve retention, and achieve viral suppression.
After Mariam completed the JSI-led community case worker (CCW) training, she was able to use her new skills to identify vulnerable individuals, including children, and tools such as practical handbooks, assessment and referral forms, and monitoring and evaluation forms to assess their needs.
"I found various ways to approach, advise, and convince people to discuss their health status," Mariam said.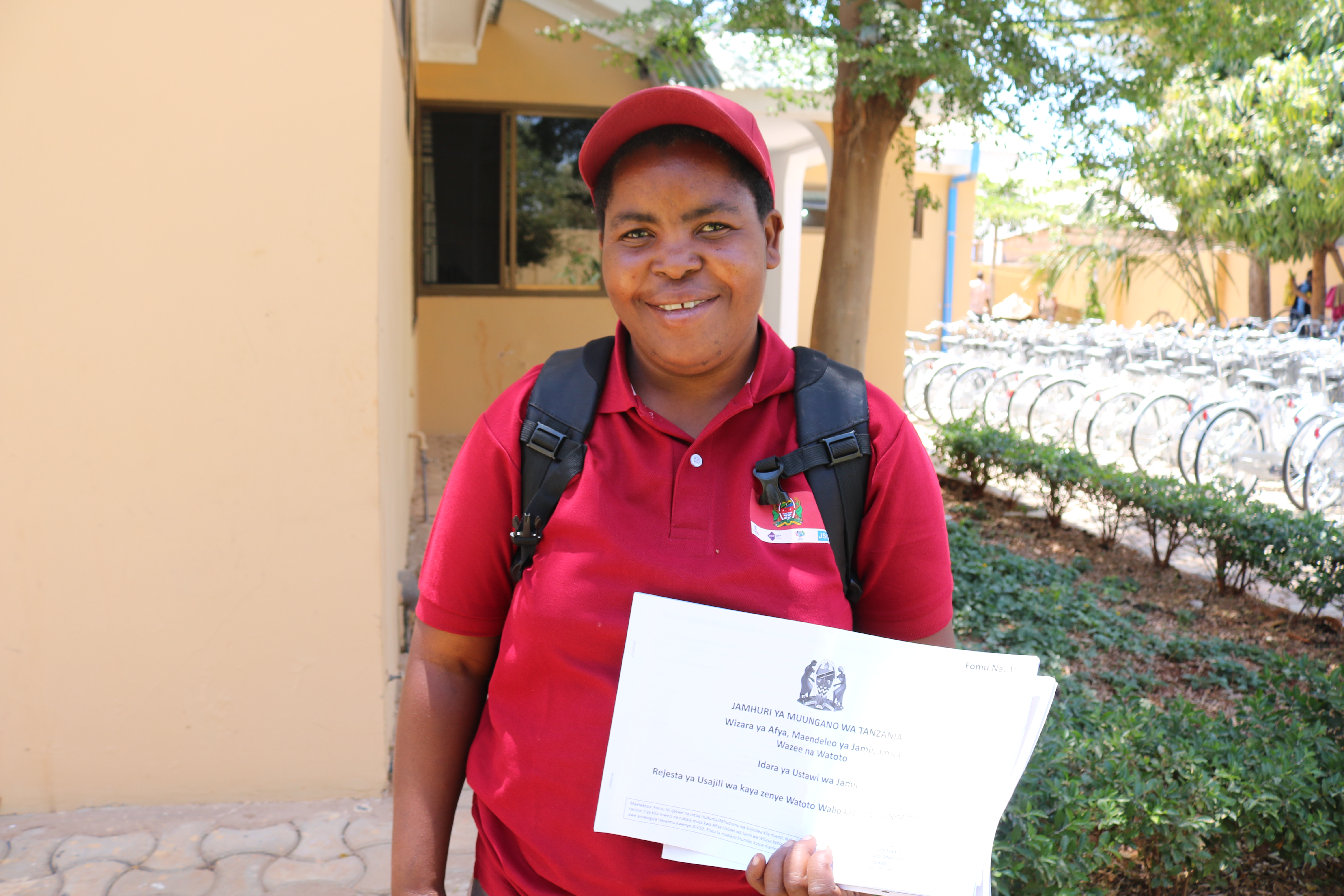 Mariam holding one of several forms developed by CHSSP, in collaboration with implementing partners and the government of Tanzania, to help CCWs identify and refer most-vulnerable children to health and social welfare services.
Despite her enthusiasm for educating and persuading people in her community to get tested for HIV, her efforts fell short because there were no health centers or clinics in her village, and few people could afford transport to the nearest health center. "I would convince households to get tested but the referral stage was always challenging because the health center was located far from the village," said Mariam.
So Mariam decided to ask the nurse who provides maternal services in the village if she could provide HIV testing services too. As a result of Mariam's initiative, the nurse now provides HIV testing services.
Mariam is one of 19,525 CCWs trained through CHSSP—marking a reduction of approximately 44% in the human resources gap. The project aims to train 21,057 CCWs by November 2020. That will be a rate of one trained CCW for every 20 households in the country, which will be a tremendous boon to HIV-mitigation efforts in Tanzania.