Eveline Awio, a 35 year-old mother of three, is an advocate for reproductive health and rights in Ngai sub-county in Oyam district. Eveline is a member of a Village Health Team (VHT) trained by the USAID-funded Regional Health Integration to Enhance Services-North, Lango (USAID RHITES-N, Lango) to administer family planning (FP) services in communities. In the past, women would have to move longer distances to access FP services from the facility. After the training, Eveline brought services closer to her clients by creating an FP corner in her house where she stores family planning commodities for her clients.
Currently, she provides about 80 clients a month with FP methods like condoms, birth control pills, and Sayana Press, in addition to conducting health education sessions on FP and making referrals for additional services to health facilities. Her work has helped to address myths related to family planning.
"I had always dreamed of becoming a doctor long before I was married. When my dream did not come true, I remained passionate about health issues. One day, my local council leader invited me to attend health education sessions on family planning provided by USAID RHITES-North, Lango. This together with other trainings enriched my knowledge of administering family planning methods, and I became an advocate for family planning services."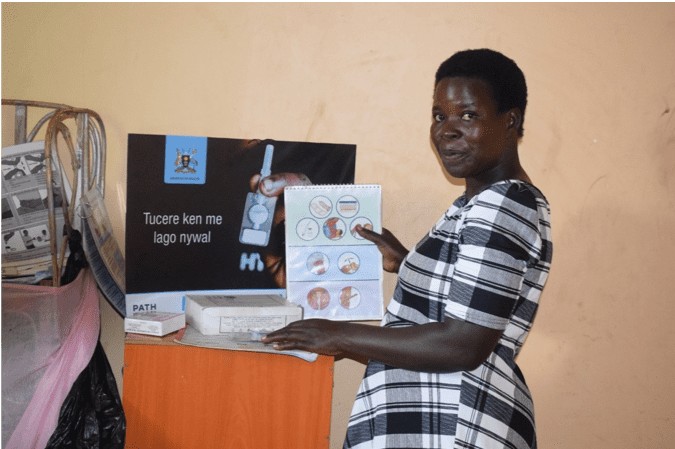 Eveline has mentored a few women to be FP "champions" who reach out to women in their communities to share Family Planning messages and available FP options. These champions often refer potential clients to Evelyne for FP services.
"Today, I preach the benefits of family planning to all women of child-bearing age and men at social gatherings, like the market and churches. I have seen positive attitude change towards family planning services and some of my clients are wives of religious leaders. My work as a VHT is satisfying and motivating because my clients are healthy, happy, and can now plan for their families."
USAID RHITES-N, Lango builds on the successes of previous US government-funded efforts to strengthen the country's health systems through promoting the adoption of healthy behaviors by raising awareness at the individual, provider, and community levels, reducing delays in seeking care, and lowering sociocultural barriers to service uptake.