Educating Massachusetts residents on the dangers of lead poisoning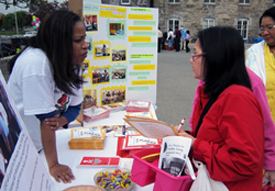 Promotora Damaris Frias-Batista shares materials on how to keep a healthy home at a local Lawrence community event, Fiesta de Salud (Celebration of Health)




"Si, vale la pena, luchar por la comunidad (Yes, it's worth it, to fight for the community)," announced Andria Galay, one of ten Promotoras (health promoters) who provide information and moderate conversations on health risks found within local residents' homes.

"The majority of people [at the Promotora's workshops]—including pregnant women and children—didn't know the danger of lead poisoning," explains Liris Nunez to a crowd at an Environmental Protection Agency (EPA) event celebrating the project. "We were able to inform them." Another Promotora, Damaris Frias-Batista, shares how she was able to use her training to protect her son who has asthma: "My son was coughing all the time. Through the program, I learned about dust mites and allergies."

Casas Sanas Niños Sanos—Healthy Homes Healthy Children project—funded by an EPA Healthy Communities Grant, is training Latino residents in Lawrence, MA, churches to identify, understand, and take action to reduce factors in the home that affect children's health. Lawrence is one of the 25 poorest cities in the nation, and endures one of the highest asthma rates in the state. Seventy percent of Lawrence residents are immigrants from the Dominican Republic and Puerto Rico and are unfamiliar with the conditions in their homes that affect their children's health.

As part of the program, John Snow, Inc (JSI) has developed training and educational materials designed for the Promotoras as they meet with their community groups. JSI trained the Promotoras in how to use the materials and how to effectively talk with residents in the community to change their behavior.

The health trainings are conducted at community church workshops. Participants leave with a checklist developed by JSI to assess household products and practices that may affect their children's health. Common practices discussed by participants involve the unhealthy use of aerosols, lotions, and products containing lead.

Of the ten churches selected and engaged by Asociación de Ministros Evangelicos de Lawrence (AMEDAL) ministers to conduct the workshops, nine are Latino, and one is Haitian. Pastor Joseph Hyppolite of the Haitian church was initially unsure of his community's eligibility for the program. "When I heard about the program, I thought it was only for Latinos. But Haitians need [the health training] too." In total, the Promotoras have been able to reach 400 families and 500 men, women, and children.

"I'm very happy to be the person to provide the workshop," said Promotora Rosalie Lorenzo in her native Spanish. "I am also grateful, because I received information I didn't know before about asthma and lead poisoning."


Related Project:
Casas Sanas Niños Sanos - Healthy Homes Healthy Children (2010-2011)