Responding to the smokeless tobacco surge New England teens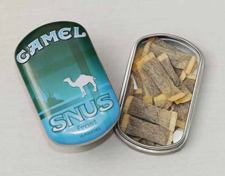 Snus--moist snuff in small teabag-like pouches placed between cheek and tongue--present similar risks to chewing tobacco. Photograpph courtesy of Massachusettss Department of Public Health

A survey of tobacco use among high school students in Massachusetts during 2009 confirmed a good-news trend. The survey by two state agencies found that the rate of current cigarette smoking among youth continued a long-term decline—down to 16% in 2009 from 17.7% the year before, prolonging a drop from 30.3% a decade ago.

But the study underscored a disturbing piece of bad news: Massachusetts youth are consuming other tobacco products—cigars or smokeless tobacco—at an ever higher rate. In the six years ending in 2009, the rate has risen steadily from 13.3% to 17.6%.

The overall results marked a significant turning point. For the first time, high school students are using the other tobacco products more heavily than cigarettes, according to the Massachusetts Department of Public Health (DPH). The DPH conducted the survey along with the Department of Elementary and Secondary Education.

On March 24, 2010, the day that the DPH released its findings, Ann Marie Rakovic was calling on legislators at the Massachusetts State House in Boston. She heads the Smokers' Helpline that JSI Research & Training Institute, Inc., administers for Massachusetts, Rhode Island, and New Hampshire.

Rakovic briefed the lawmakers about the widening prevalence of smokeless tobacco products on the market throughout Massachusetts and discussed the serious problems and risks that the trend presents. She noted that smokeless tobacco can cause oral cancer and poses other health hazards.

She displayed a sampling of the sprightly packaged, sweetly flavored smokeless tobacco products that are not smoked but chewed, swallowed, or absorbed between cheek and tongue. "These new products resemble candy with flavors like grape and peppermint," Rakovic says. "They are targeted at the youth market, and they are exempt from the Massachusetts cigarette tax that has proven to be an important deterrent to smoking."

Given that 69% of Massachusetts high school students who smoke cigarettes also use marijuana and 20% have used cocaine, health officials are worried that some smokeless tobacco projects may become a "gateway" to marijuana and harder drugs. And research indicates that many people who become addicted to nicotine develop the tobacco-use habit at a young age.

Briefing Massachusetts lawmakers is one facet of the stakeholder education that JSI provides the state as a technical expert and service-delivery manager in the campaign against tobacco use. JSI's anti-tobacco assistance to the DPH dates from 1993. A similar collaboration between JSI and state health officials in Rhode Island and New Hampshire has been under way since 2002.

In that year, JSI collaborated with the DPH and several key state health insurers as they jointly developed the QuitWorks initiative, a multi-pronged program of health-system restructuring to help smokers break their habit. QuitWorks enlists doctors and other healthcare providers in the program, which periodically distributes free nicotine patches to eligible smokers and offers quit-smoking counseling through the JSI Helpline.

"QuitWorks has become a national model for health systems change," Rakovic says. "The program, which has been adopted by Rhode Island and New Hampshire, has proven its effectiveness time and again. More than 400 healthcare institutions and thousands of providers have referred their patients to the program."

JSI has been instrumental in developing and implementing QuitWorks. To enhance the program's effectiveness, JSI has established quality assurance metrics and standards for service-delivery workflow.

Through the QuitWorks system doctors and other healthcare providers notify JSI by a fax message if their patients would like to participate in the program. JSI follows up by calling the patients within 72 hours and screening them to determine need and eligibility. If the patients are eligible, JSI offers them a nicotine patch and informs the provider of the steps taken in each case.

To streamline enrollment tracking and other kinds of information management, JSI developed the initial concept for a web-based interactive database that has become an integrated part of the Helpline infrastructure. The technology allows JSI staff to have virtual database interaction and management via the Internet.

In addition to its work for the public-health agencies in the three New England states, JSI has cooperated on a variety of anti-smoking programs with the American Lung Association, the Legacy Foundation, the American Cancer Society, National Cancer Institute and the federal Centers for Disease Control and Prevention.


Related Project:
Try-To-Stop Tobacco Resource Center (2001-2008)