Strengthening the health safety net in Massachusetts


The Patient Protection and Affordable Care Act, the sweeping health care reform of March 2010, marks an historic achievement for the United States. The new legislation promises to secure near-universal health-insurance coverage for Americans and spur initiatives that could dramatically transform the nation's health care system.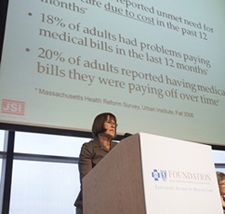 JSI Vice President Pat Fairchild presents results from the Care Beyond Coverage policy initiative at the Blue Cross Blue
Shield of Massachusetts Foundation
2009 Summit on Health Access.


"Despite the great leap forward, however, the law is no guarantee that everyone, even the newly insured, will have access to timely, adequate health care," suggests Alec McKinney, who manages JSI health "safety net" projects.

Insurance coverage does not necessarily mean access. To be sure, the health reform law expands two federal safety net mainstays—Medicaid and the Children's Health Insurance Program—and paves the way for tens of millions of Americans to obtain private health insurance that they would not otherwise have. The law also allocates almost $11 billion over five years to bolster Federally Qualified Health Centers (FQHCs).

Barriers and disincentives, though, will remain in place even with the new benefits on the books. Not everyone will be covered and millions of Americans, especially people with low income and those with language and cultural differences, will still face significant barriers when they seek health care.

Perhaps the most significant barrier is a shortage of physicians and other health care providers who are willing to accept Medicaid patients and the fees that the program allows. The expansion of FQHCs will help address this issue, but health centers face their own challenges recruiting enough primary care health providers to meet the demand for services. Unfamiliarity with the expanded Medicaid provisions and health exchanges that the new law will establish may also be a barrier to health care access. People who do not have experience "shopping" for health insurance may have particular difficulty identifying a health plan that is right for them. For those with limited education or English-language skills, the challenges of navigating the enrollment procedures of government health care programs are particularly complicated

In its recent collaboration with the Blue Cross Blue Shield Foundation of Massachusetts, JSI identified many of the same kinds of challenges that will remain nationwide even after passage of the sweeping health care reforms. The foundation tasked JSI to evaluate the extent to which Massachusetts residents still faced barriers to health care access despite the state's pioneering, near-universal health-insurance system enacted in 2006—a system largely emulated by the reforms passed by Congress and signed into law by President Obama in 2010.

To further the foundation's goal of ensuring access to quality health care for all Massachusetts residents, JSI identified and assessed the remaining barriers.

The findings of the Massachusetts project thus have particular bearing on efforts to strengthen the health safety net.

Health care access problems are not new and some public health agencies, community-health organizations and foundations have long sought ways to ease them. During the past 30 years, JSI has worked with hundreds of health centers and other community-based providers has helped expand and improve their services.

JSI has provided technical assistance to health centers in the areas of program development, strategic planning, and recent projects in the development of new models of care delivery such as medical homes and mental health integration. JSI conducted market research for the Delaware Health Care Commission, in coordination with three FQHCs across the state to understand the patient populations served by health centers.

"The knowledge and experience that we have gained from years of involvement in programs enables us to help make health care more accessible, higher quality, and more cost effective, particularly for those who are vulnerable and who are often left out. We expect to continue that work as health care reform is rolled out," McKinney says.

A study that JSI conducted for the Montgomery County Department of Health and Human Services sought to further those goals. The county asked JSI to explore ways to strengthen its Montgomery Cares Program, which subsidizes primary health care for low-income residents of the county through a network of publicly-supported, independently-operated community clinics. JSI recommended changes in the central management structure of Montgomery Cares; its planning, program screening and enrollment functions; and operations at the clinics.

On behalf of the Community Health Foundation of Western and Central New York, JSI worked on a similar project aimed at improving health care for low-income, vulnerable children in an eight-county region surrounding Buffalo. The study documented the region's health-service gaps and barriers to access. It also identified ways that the area's network of core safety net providers could improve their management and clinical operations.

JSI has also worked intensively on projects involving behavioral health and dental care—which are also critical components of basic health care, neither of which the 2010 law covers comprehensively. In one recent project, JSI joined the Maine Health Access Foundation to develop and evaluate means of integrating behavioral health into the state's primary-care system.

Strengthening the safety net for dental health was the goal of a project on which JSI assisted Delaware public health officials and private health care providers in that state. JSI helped develop a strategy to expand access to dental care, particularly for low income, Medicaid insured, and uninsured populations.

Such projects will remain critically important even after the nation's health care reform law takes full effect in 2019, McKinney notes. "The deep-seated problems left unsolved by the new law are not self-correcting," he says. "If we do not act, groups of people will continue to be left out of health care altogether."


Related Project:
Care Beyond Coverage: The Blue Cross Blue Shield of Massachusetts Foundation Access Project (2008-2009)