Preventing newborn and maternal deaths in Nigeria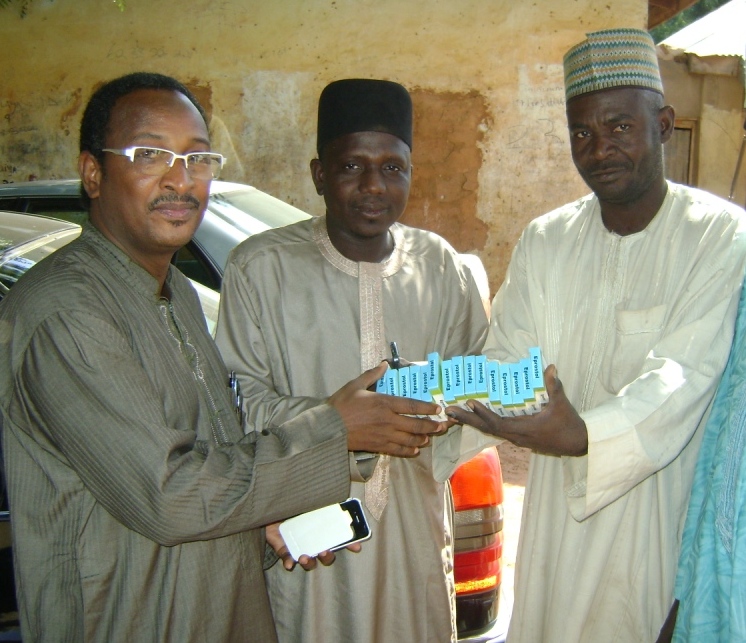 Delivering misoprostol to a ward development committee in Sokoto State, Nigeria.

Sokoto state is the first government in Nigeria to procure, using its own funds, two lifesaving drugs that will protect the lives of mothers and newborns: chlorhexidine to prevent newborn sepsis and misoprostol to prevent maternal postpartum hemorrhage.

Postpartum hemorrhage is responsible for approximately 25% of maternal deaths worldwide. In Sokoto state alone, there are an average of 1,000 maternal deaths each year, which is the equivalent of three maternal deaths per day. The drug misoprostol is a proven, inexpensive, and safe intervention that can reduce the likelihood of postpartum hemorrhage almost entirely. Misoprostol is taken orally and can be administered by community health volunteers who have minimal technical training.

Approximately 30% of neonatal deaths are caused by infections to the umbilical cord. Similarly to misoprostol, chlorhexidine is a safe, low-cost, proven intervention. If administered to the umbilical stump after delivery, it can drastically mitigate the risk of infection.

Sokoto's procurement of chlorhexidine and misoprostol means that as many as 2,250 newborn deaths due to cord infection and 1,000 maternal deaths due to postpartum hemorrhage will be prevented. Presently, 95% of all deliveries in Sokoto take place at home; the ability to deliver such lifesaving, low-cost drugs directly to women in their homes is singularly important.

USAID's TSHIP project, implemented by JSI, saw the need to prioritize the wide-scale use of misoprostol and chlorhexidine as the most effective ways to reduce maternal and neonatal deaths in Sokoto.

Understanding the importance of getting buy-in from the Sokoto state government, TSHIP began meeting with senior staff from the Ministry of Health and the Ministry of Local Government. Sokoto expressed significant interest and became fully committed to bringing the delivery of both misoprostol and chlorhexidine to scale. As a result, in November 2012, the Sokoto State government, using its own funds, ordered 56,832 doses of misoprostol from Marie Stopes International and 56,823 of chlorhexidine from a subsidiary of the Kano-based (in Northern Nigeria) Gongoni Company.

An innovative, community-based logistics and distribution system has been developed in collaboration with TSHIP's state partners. The system uses a cadre of community health volunteers who are trained by TSHIP to deliver high-impact interventions, like misoprostol and chlorhexidine, at the community level. In addition to serving as a link to the distribution network, the community health volunteers always know the location and status of pregnant mothers in their villages. To date, more than 2,400 volunteers have been trained.

During the first two days of misoprostol being available in Sokoto, in December 2012, the system was able to deliver the drug to two laboring mothers in rural communities. Both mothers safely welcomed their healthy children into the world and both were referred to their local primary health clinics for their babies to receive the full set of newborn vaccinations, including polio. Sokoto's self-financed order of chlorhexidine arrived in Lagos on January 15, 2013, from where it will be delivered to Sokoto immediately.

Related Project:
Nigeria Targeted States High Impact Project (TSHIP) (2009-2015)