Saving a newborn from infection in Mahottari, Nepal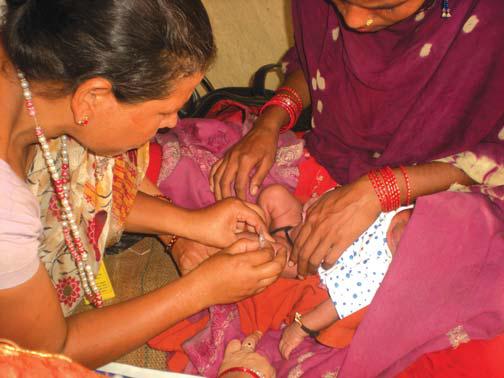 An infant diagnosed with a possible severe bacterial infection (PSBI) is treated with gentamicin.

Aarati, an infant girl born in the southern Nepali district of Mahottari, was just ten days old when she broke out in a rash that covered her whole body. Aarati's grandmother and other women in the neighborhood believed the red bumps were a result of the heat or lack of bathing and treated the rash by applying cooking oil all over Aarati's skin. However, within two days, the skin lesions had become larger and were filled with pus. Aarati became very sick and stopped nursing.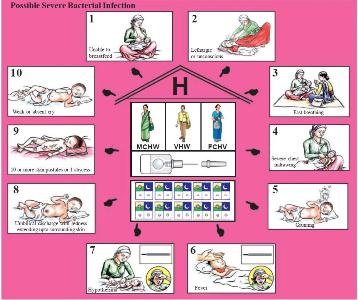 This diagnosis card, distributed to health workers through the Community-Based Integrated Management of Childhood Illness (CB-IMCI) program, shows the ten symptoms of a possible severe bacterial infection, and who, when, and with what they should be treated.

Aarati's grandfather finally went to fetch a doctor, who could not accurately diagnose Aarati's ailment based on her symptoms. He gave her a taxim injection (an antibiotic used to fight certain types of infections) and a betnesol drop (a corticosteroid used to control inflammation) despite the uncertainty of his diagnosis and advised the family to apply baby powder or Nycil (talcum powder) on the skin lesions. They heeded his advice for two days, but to no avail – Aarati's condition started to deteriorate.

Worried that her condition was getting worse, Aarati's family decided to take her to the hospital in Janakpur, the nearest big city. Before the left, the auxiliary health worker (AHW) from their local sub-health post, Mr. Surendra Prasad Bhagat, made a trip to their household. When the family explained to Mr. Bhagat about Aarati's illness, the AHW requested them not to take her to Janakpur but to allow him to treat her instead. Having received the Community-Based Integrated Management of Childhood Illness (CB-IMCI) training, a program supported by the JSI-managed Nepal Family Health Program, Mr. Bhagat was confident in his ability to successfully treat Aarati.

Using the IMCI treatment booklet, Mr. Bhagat was able to accurately classify Aarati's case based on her symptoms. He diagnosed her as having a possible severe bacterial infection (PSBI) and treated her with a gentamicin injection.

Within 6 hours, Aarati's condition had already improved. Mr. Bhagat continued the gentamicin injections for 7 days as instructed by the manual, and counseled Aarati's family about keeping the newborn warm, continuing to breastfeed, and bathing the newborn with anti-bacterial soap and warm water. Mr. Bhagat expresses sincere gratitude towards the CB-IMCI program, particularly the training he received, which he believes has enabled him to save many children like Aarati.


Related Project:
Nepal Family Health Program (NFHP) II (2007-2013)