The USAID | DELIVER PROJECT Improves Patient Access to Essential Medicines in Zambia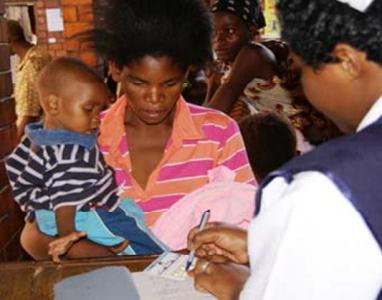 A health center patient receives medication.

In Zambia, critical medicines and health supplies for malaria, family planning, and opportunistic and sexually transmitted infections (OI/STI) often do not reach the people who need them most.



By scaling up the pilot project throughout Zambia—

• 27,000 child deaths from malaria could be averted by2015, reducing the child mortality rate due to
malaria by as much as 37 percent

• Maternal and child health and OI services will dramatically improve

• The number of unwanted pregnancies will be reduced drastically, and more children will be spaced appropriately, leading to healthier mothers and children.


For years, health facilities throughout the country had a continuous shortage of almost all essential medicines. "In the past, we used to get a lot of prescriptions without access to actual medication," said Mwansa Kasonde, a patient from Kasama. "They [the pharmacists] would tell us to go and buy from drug stores whose price was exorbitant."

In 2009-2010, with funding and support from USAID and the World Bank, the Ministry of Health (MOH), through Medical Stores Ltc., collaborated with the USAID | DELIVER PROJECT to find a solution. The partners initiated a logistics system pilot project to cost effectively improve the availability of lifesaving drugs and other essential products at health facilities. The pilot project compared two distribution models in randomly selected peri-urban and rural districts, for one year.

The pilot project was a great success. For most products there was a significant increase in the number of days that stock was available, compared to those in the control districts who were using the existing system. For example, stockouts of antimalarial medicines were reduced from 48 to 8 percent. "Drug availability has improved tremendously, particularly for antimalarial drugs and antibiotics," said Oscar Bwalya, pharmacy technician at Mungwi Rural Health Center. "We have the ability to do a physical count and order according to demand. This has ensured access to a variety of medicines by our community."

As part of the pilot project, 646 personnel from more than 350 health facilities in the pilot districts received logistics training to learn the procedures for the new systems. "The essential medicines pilot built the capacity of health center staff," said Dr. Mwanza, a district and health center/health post staff indeed brought empowerment, which has been illustrated by the high reporting rates."

Senior members of MOH praised the results of the essential medicines supply chain pilot and stated their commitment to scale up the successful model to all of Zambia's 73 districts. "[There is] overwhelming evidence that the interventions have had a positively significant increase in drug availability," said Minister of Health Kapembwa Simbao. "Scale-up of these interventions is key in strengthening the supply chain management systems in-country."
A nationwide implementation of the new essential medicines supply chain system will ensure patients access to lifesaving medicines and health supplies; it will take approximately two and a half years to complete.


Related Project:
USAID | DELIVER PROJECT: Task Order 1 (2006-2012)