Pregnant mothers receive guidance and misoprostol post delivery in Nepal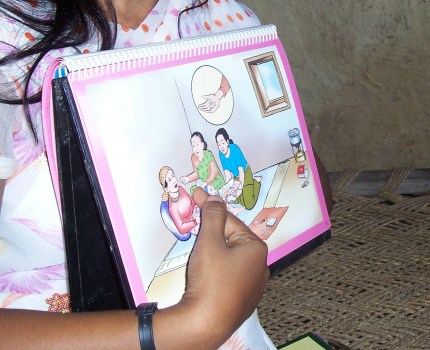 A job aid, part of the birth preparedness package, that pictorially explains the use of misoprostol tablet immediately after delivery.

By the sixth month of her pregnancy, twenty-year old Pooja Bandari had only received one antenatal check-up. When she moved to her parents' village in Banke to prepare for delivery – customary for most Nepali women - her pregnancy fell under the care of the village's female community health volunteer (FCHV), Lal Maya Thapa.

It was under Lal Maya's guidance that Pooja began to regularly visit the village's antenatal clinic. Apart from providing her with iron/folate tablets, Lal Maya also counseled Pooja about birth preparedness, danger signs during pregnancy, delivery and post-partum periods. Lal Maya encouraged Pooja and her family to deliver at the hospital or at the very least, arrange for someone to attend to her delivery at home. Deciding that she would only go to the hospital if complications arose, Pooja's family arranged for the traditional birth attendant (TBA), who lived next door, to attend her delivery.

When she was eight months pregnant, Lal Maya talked to Pooja and her family about misoprostol, a pill that can prevent life-threatening post-partum hemorrhage. The FCHV explained that taking three tablets of misoprostol with hot water right after delivery would help Pooja's uterus contract and decrease blood loss. Lal Maya further explained that if side effects like shivering, fever, diarrhea, headache and vomiting were to appear, they would be short-lived and should not cause alarm. However, if Pooja lost more than two cloths worth of blood, she should immediately be taken to the hospital. Lal Maya instructed the family to keep the red packet with the three pills in a safe place. Because Pooja had no older female guardian in her house, the family asked the TBA to safeguard the medicine.

When Pooja's labor pains began, the TBA was there to attend to her. Pooja delivered her first child, a healthy baby girl, Asmita and was given the misoprostol immediately after delivery. She experienced no side effects and suffered only light blood loss.

Thirty-seven year old Lal Maya Thapa has worked as an FCHV in her community for over a decade and has distributed misoprostol to pregnant women like Pooja Bandari for the past two years. Since she started distributing misoprostol in her community, Lal Maya has noticed a decrease in severe delivery-related bleeding cases. Although she encourages delivery at the health facility, the FCHV says that most women in her village still deliver at home, provided there are no complications with the labor.

Indeed, when asked why she delivered at home given that Bheri Zonal Hospital is just a thirty-minute drive away, Pooja replied "Well, I was able to safely deliver the baby at home, so there was no need!"

It is unknown whether this decision was influenced by an older family member as none were present at the time of interview. Although Pooja's delivery was successful and without complication, giving birth at home under the supervision of an unskilled birth attendant armed only with misoprostol tablets against life-threatening complications is not ideal. To save more mothers and newborns from delivery-related complications and death, women and whole families must be convinced of the benefits of delivering in hospitals equipped to handle unforeseen complications and of having their deliveries attended by trained medical personnel.


Related Project:
Nepal Family Health Program (NFHP) II (2007-2013)