Medical supplies increase urban health extension professionals' efficiency in Ethiopia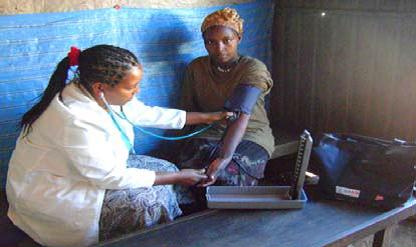 Woinshet Irena checks blood pressure during a house call. Photo: John Snow, Inc.

In Ethiopia, more than 4,000 Urban Health Extension (UHE) professionals bring Urban Health Extension Program (UHEP) services to the doorsteps of thousands of urban households. Each UHE professional works with 500 homes to improve household members' health in the areas of hygiene, sanitation and HIV prevention and care, including specialized support for particularly vulnerable populations.

However, a lack of medical equipment and consumable health commodities challenged UHE professionals' capacity to provide optimal care during household visits. It also caused some
community members to question the UHE professionals' ability and usefulness. This was recently remedied when USAID's Urban Health Extension Program (USAID/UHEP) distributed 30 sets of medical supplies and consumables (known as UHEP kits) in Nekemte Town of Oromia Region. The kits contain medical equipment, supplies, and consumables including blood pressure apparatuses, thermometers, stethoscopes and fetal stethoscopes, cotton, gauze, gloves, penile models, and umbrellas, all in an attractive and easy-to-carry bag.

For UHE professionals such as Woinshet Irena of Nekemte Town, the newly-acquired equipment and supplies have generated new excitement about their jobs and boosted confidence of and acceptance in the community. Woinshet gratefully acknowledges USAID/UHEP's support, saying that she is more confident when making house calls because she can provide optimum care and more precise referrals using the items in her UHEP kit. "The kits we received from USAID/UHEP have helped improve the quality of the home-based health care we are providing. We are more confident in our work, and this new confidence has made me more important in the community," says Woinshet.

Ato Gamachis Degefu, Head of Nekemte Town Health Office, predicted as much when he spoke at the UHEP kit utilization orientation in Nekemte. "The USAID/UHEP kits will improve the quality of health service and the acceptance of UHE professionals in the community."

To date, USAID/UHEP has distributed 897 kits in its' 19 target cities and towns.

Related Project:
Ethiopia Urban Health Extension Program (USAID|UHEP) (2009-2013)